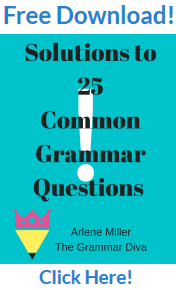 Welcome to The Grammar Diva
at bigwords101.com books
Arlene Miller, The Grammar Diva, is a bestselling Amazon author offering these products and services:
Grammar Books - These popular books are perfect for instructors, students, homeschoolers, job seekers, test takers, professionals, and nonnative speakers. Bulk sales available. See what readers say!
Grammar Workshops and Presentations - Schedule a workshop or presentation for your company or organization.
Copyediting - Need help with your writing? Contact me.