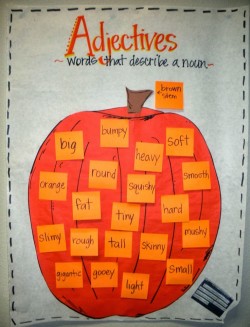 Adjectives are a pretty friendly part of speech; they don't cause too many problems in our writing. However, there are a couple of things that might cause a question or two: compound adjectives and consecutive adjectives.
Compound adjectives are just what they sound like—more-than-one-word adjectives. For example, I just made one up that contains four words! And yes, they are hyphenated and sometimes "made up" by the writer. 
1. The first thing to know is that these compound adjectives are generally hyphenated when they appear directly before the word they describe, but not if they appear after the word. Here are some examples:
I have a self-published book. BUT My book is self published.
He has a three-year-old son. BUT His son is a three year old.
I am baking an eight-layer-high cake . BUT  This cake is eight layers high.
Often, the hyphen (or the elimination of a hyphen) can clear up confusion:
A pink-horned owl is in that tree. (The owl has pink horns. ) Compare that to
A pink horned-owl is in that tree. Now the whole owl is pink. See the difference? 
You also want to make sure that the adjective, compound or not, is in the right place:
Two-year-old teacher wanted for new daycare center. (This is a real example! Yes, a very precocious toddler indeed!)
Striped baby's dress for sale. (Striped dress or striped baby????)
2. By consecutive adjectives, I am referring to two or more adjectives before the same noun.  Is there a comma between the adjectives, or isn't there? Yes. Both.
If one of the adjectives is modifying the other adjective rather than modifying the noun, there is never a comma between them. For example,
bright blue dress (Here, we mean bright blue, not bright dress.)
If the second adjective really goes with the noun, don't use a comma.
new hit song (Here, hit really goes with song. It is a hit song.)
strict second-grade teacher (second-grade, a compound adjective, really goes with teacher.)
If both of the adjectives are describing the noun, sometimes there is a comma between the two adjectives. The quick way to figure it out is to put and between the two adjectives. If it makes sense to say and between them, you need a comma.
old, torn dress (old and torn dress)
hot, humid day (hot and humid day)
long, narrow hallway (long and narrow hallway) 
Happy Halloween and Happy Describing!