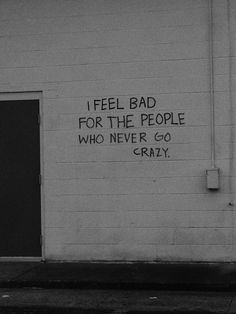 Many people are confused about bad versus badly—and for that matter, good versus well. Bad is an adjective; badly is an adverb. Good is an adjective; well is an adverb.
So….do you feel bad or badly? Good or well?
Let's start a few steps back. Adjectives (one of the parts of speech) are generally used to describe nouns. They tell what kind, which one, or how many.
Examples of adjectives:
pretty dress (what kind?)
bad dream (what kind?)
seven books (how many?)
this tree (which one?)
Adverbs (another part of speech) are generally used to describe verbs. Many times (but not always), adverbs end in -ly and are formed by adding the -ly to an adjective. For example, quick (adjective) and quickly (adverb); soft (adjective) and softly (adverb); and bad (adjective) and badly (adverb).  Adverbs tell when, how, and to what extent.
Here are some examples of adverbs in action:
He dances well (how)
He will go soon (when)
He is too thin (to what extent – and an adverb modifying the adjective thin)
Most of the time adjectives are placed before the noun they modify in a sentence. For example,
I have three (adjective) wishes (noun).
I bought the blue (adjective) dress (noun).
However, sometimes adjectives appear away from the noun or pronoun they modify. For example,
The dress is blue.
I am quiet.
Joan is intelligent.
In the above examples, blue describes, or modifies,  dress; tired describes I, and intelligent describes Joan.
Now, look at these sentences, which are structured in the same way, but use adverbs instead of adjectives:
Joan speaks intelligently (adverb).
I walk quietly (adverb).
The dress fits perfectly (adverb).
In the above sentencers, the adverbs describe the verbs (as adverbs usually do): speaks how? (intelligently); walk how?(quietly), and fits how? (perfectly).
Now, look at these sentences:
The pizza looks good. (Good is an adjective describing pizza)
The man looks at her carefully. (Carefully is an adverb describing looks.)  (Looks how?)
The fabric feels soft. (Soft is an adjective describing fabric.)
The woman feels the fabric lightly. (Lightly is an adverb describing feels.) (Feels how?)
Okay. Let's explain all this. If you look at the first pair of sentences, with look as the verb, you will discover that there are two kinds of look.  In the first sentence, no one is looking at anything. Pizzas don't have eyes. The looks verb here is not an action verb. Now look at the second pair of sentences. In the first sentence, there is also no action. The fabric has no fingers, and it isn't feeling anything. However, in the second sentence, the woman is feeling using her fingers.
Some verbs (most verbs) are action words even if they represent mental action (think, consider, wish) rather than physical action. However, some verbs do not represent action. They represent a state of being,  emotion, or sense.  These verbs are often called linking verbs. Some verbs can be both action and state of being, depending on how they are used in the sentence  (feel, taste, sound, and grow, for example).
Linking verbs include the following (not an all-inclusive list):
to be (is, am, are, was, were, will be, has been, have been, etc.)
look
sound
taste
feel
seem
become
grow  (The tomatoes are growing quickly – action;  I am growing tired – linking)
If this were a math lesson, the linking verb would be an equal sign. 
I am tired. I = tired.
Sue is tall. Sue = tall.
The pizza looks good. Pizza = good.
If you try this with an action verb, it doesn't work:
I play chess. I = chess? No.
She walks the dog. She = dog. No.
Now, what does this all have to do with bad and badly, you ask? After a  linking verb, you use an adjective, not an adverb.  (The grammatical term for this adjective is predicate adjective). I feel bad is correct because feel is a linking verb here. To say I feel badly would imply that feel is being used as an action verb. In other words your fingertips are not working, so you feel badly!
What about I feel good? Or is it I feel well?  Grammatically, it is I feel good, since good is the adjective and well is an adverb.  However, in this case (yes there is always an exception), you can correctly use well, because well has been accepted to mean a state of good health. So, either way, you are correct.
Now, I feel bad if I have confused you, but I feel good if I have helped to "unconfuse" you!