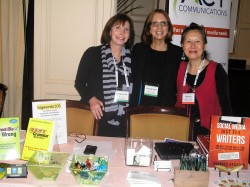 This past weekend hundreds of writers gathered at the Mark Hopkins Hotel in San Francisco to hear presenters, network with colleagues, make new friends and business connections, and buy books. I was there as an exhibitor, and although I knew beforehand that writers may not be my best market for selling gobs of grammar books, I gave it a try and had a great time!
I sold some books, made some connections for copyediting, and made an important connection for selling my books to yet another college (UC Davis), which is my market. My tablemate and roommate, Frances Caballo, author of Social Media Just for Writers, sold tons of books and made important business connections.
There were about 100 presenters and panel members at the conference, and the offerings were varied. Keynotes include Guy Kawasaki, guru of social media and self publishing, who was highly entertaining and informative. Children from San Francisco were invited to a special presentation by keynote speaker R. L. Stine, author of the famous Goosebumps series. Shared meals, a gala, and a book signing party provided extra opportunities for socializing and networking. 
There was something there for everyone: Consultations with editors, the chance to pitch to agents, Turning Your Book into a Movie, Hot Plots, Choosing Your Self-Publishing Path, Building a Community of Fans, Cracking the Young Adult Market, Writing Thrillers and Crime Fiction, Love Stories That Make Fans for Life, From Midlist to Bestseller, Troubleshooting Your Novel, Now Is the Best Time To Be a Poet, and many, many more. 
Presenters included C.S. Lakin, Anne Perry, Bella Andre, Cara Black, Mark Coker of Smashwords, Brian Felson of BookBaby, self-publishing guru Joel Friedlander, Linda Joy Myers, Dan Poynter, Kemble Scott, Sheldon Siegel, and Random Stephens. 
Although I have presented at the excellent Redwood Writers Conference, this was my first foray into the big conference. I was truly inspired to build my grammar business, to expand my offerings, to continue to write both fiction and nonfiction, to increase my social media marketing, and to propose that I present grammar workshops at this conference and others like it.  Now to find the time….
All you writers and editors: Get thee to a conference. Get inspired!