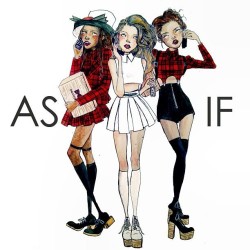 You may not be old enough to remember the television commercial in the headline of this post. However, it is commonly used as an example of incorrect grammar: the difference between the use of like and as.
And it is a very common error. Like is often used when as, as if, or as though should be used instead.
In fact, recently I edited a couple of novels, where I couldn't decide whether or not to change like to make it correct. If the grammatical mistake was in dialogue, I figured that the character would probably say it that way, so I didn't correct it. You can get away with a lot in dialogue! If it was in the narration, I still pondered over whether or not to change it. After all, we must consider the narrator 's grammar as well. 
Well, enough of this….what is the rule, anyway?
Like is used for simple comparisons. It is generally followed by just a noun.
As, as if, and as though are used when they are followed by a clause—a group of words contining a subject and a verb. Compare these two correct examples:
She acted like a queen.
She acted as if she were a queen.
The first example is a simple comparison between she and queen.
 In the second example, there is a clause after the as if. She is the subject and were is the verb.
Now look at the slogan in the headline:
"Winston tastes good like a cigarette should."
(The verb taste is actually implied, but not there, after should: Winston tastes good like a cigarette should taste.)
These, therefore, are both correct grammar:
Winston tastes like a 

cigarette. (meaning that Winstons taste like cigarettes–a simple comparison)

Winston tastes good, as a cigarette should (taste). 
Here are some examples of like and as used correctly:
She talks like a New Yorker. 
She talks as if she is from New York.
Mabel acts like the boss.
Mabel acts as if she is the boss.
It looks like rain.
It looks as if it will rain.
So, to sum up….
Use like if what follows is just a noun, or a noun modified by an adjective.
Use as (or as if or as though) if what follows is a clause with a subject and a verb.
Please check out my interview with Marcy Smothers and Susan McCullough on Gil Mansergh's radio show Word by Word on public radio.