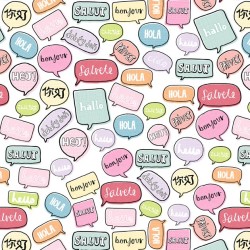 A couple of weeks ago, we celebrated National Grammar Day with a toast to words. Well, National Grammar Day has come and gone, but we still have some interesting word facts to share with you. (And it is Pi Day, after all!) Ready?
Did you know that language does change — and enough so that an educated person will not be able to read or understand words in his or her own language written 500 years previously?
Can you guess the number of actively spoken languages in the world today? 6,000
In England in the 1800s, pants was considered a dirty word!
Gadsby, a book written by Ernest Vincent Wright, has over 50,000 words in it (about 250 pages), none of which contain the letter e!
What is the most popular first name in the world? Muhammad
Six words in the English language contain a double u: vacuum, muumuu, continuum, duumvirate, duumvir, and residuum. 
Duumvirate is a government position held jointly by two people.
Duumvir refers to either of two magistrates of ancient Rome who held office jointly.
Residuum is synonymous with remainder.
The most common official language of countries is English. What is the second most common? French.
China has more English speakers than the United States.
Afraid of vegetables? You have lachanophobia.…now eat your broccoli!
No words rhyme with either orange or purple, which you probably already know if you have ever tried to write a poem!
Only one word in the English language ends with the letters mt: dreamt, a variant spelling of dreamed.
What is the most common letter in the English language? e
What is the second most common vowel? a
What is the most common consonant in English? r followed by t
What is the most common first letter of a word? s
What are the only two words in English that end in –gry? hungry and angry
Some words have no singular form: glasses, binoculars, scissors, tongs, jeans, pants, pajamas (Articles of clothing become singular when used as adjectives: pajama party, jean jacket)
The word alphabet comes from the first two letters of the Greek alphabet: alpha and beta
Ever wonder what the dot over the i and the j is called? The superscript dot.
Maine is the only state whose name consists of only one syllable.
Only four words in the English language end with -dous: horrendous, tremendous, stupendous, and hazardous.
The longest word in the English language is a scientific word referring to a part of DNA (another long word) and contains 1909 letters!
AND the toughest tongue twister in the English language?
The sixth sick sheik's sixth sheep's sick.  Say that three times fast!