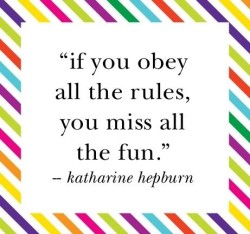 I tried to think of five grammar rules you could break; it is a much rounder number for an article such as this. However, being a grammar stickler would allow me to come up with only four I was comfortable with! (And there's one of them right there!)
1. Ending a sentence with a preposition:
Yes, pretty much everyone says this is a fine thing to do. Sometimes it is definitely the best thing to do, so your sentence doesn't sound awkward.  However, there are degrees to which writers (or speakers) will go when trying to avoid the preposition at the end of the sentence.
This is something I won't put up with!
This is something with which I won't put up!
I would choose the first one!
Whom are you going with?
With whom are you going?
Most people would choose the first one here, but I would actually (every since I became the Grammar Diva) say the second one. Totally up to you! I probably sound stuffy saying it my way, but so be it! Oh, yes, most people would also say "who" instead of "whom," but that is not a grammar rule I recommend breaking. That broken rule comes from simply not knowing which is which. I have written posts on the difference between who and whom, so you can refer to those.
Oh, then there is this one:
Where are you?
Where are you at?
Please don't end your sentence with at when you don't need a preposition at all!
2. Starting a sentence with a conjunction (And, But, So)
Okay, I will relent on this one, but for creative writing only, not in a business letter. Others, I know, disagree. I still think that conjunctions go after the comma in a compound sentence:
I have to finish my report, and then I can help you.
Sometimes it does make sense to use the conjunction more as a transition word to begin a sentence, but I prefer that it be for effect in something that is not formal.
She was alone on a dark street. And then she heard footsteps quietly approaching from the distance. She kept going, quickening her pace. But the footsteps matched her faster pace.
Okay, fine. I agree it does have a positive effect in the above example! But (uh-oh) I don't like this one:
I believe I am qualified for this position. And I have the appropriate education.
3. Using their as a singular pronoun.
Webster now says it's OK, so I guess it is OK. And it avoids the awkward phrase "his or her," since the English language has no singular form for this phrase.
Everyone needs to bring his or her book to his or her math class.
Pretty unwieldy, huh? Most people have been using their instead of his or her for ages. But it isn't really correct. Although everyone sounds plural, it isn't. You say "everyone is," right? And is is a singular verb. So the pronoun (his or her/their) should also be singular, since it refers back to everyone.
So, now you can use their in the singular. I still don't like it. I wouldn't use it in a cover letter. I wouldn't recommend using it on a college essay. The best thing to do, in  my opinion, is just to rewrite the sentence to avoid the entire problem:
Everyone needs to bring the math book to class.
4. Using sentence fragments. Here is my rule for using a sentence fragment (a group of words that is not a complete sentence):
If you know you are using a fragment and you have a good reason, go ahead and use it.
Sentence fragments are popular in promotional writing, novels, and other creative writing. They are not great in business letters or when the person reading what you have written could mistake you for someone who doesn't know what a complete sentence is!
I looked at her. All legs and blonde hair.
Of course the second "sentence" in the example is a fragment. But it works.
So, hard as I try, I can't think of another rule that can be broken! Can you? But I bet you can find me breaking these rules all over this blog post!
Here is a book that is coming soon!