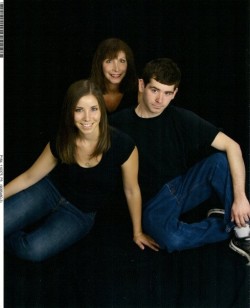 Mother…..Mom….Ma….Mum….Mumsy…..Mama…..Mommy…..Mummy…..Baby Mama…..Mam…..Mamadukes……
Whatever we call her, everyone has a mother (in body or in spirit), is a mother, or knows a mother….
Here are some different ways to say Mother:
Arabic – Ahm
Bulgarian – Majka
Czech – Abatyse
Dutch – Moeder
French – Maman
German – Mutter
Greek – Mana
Hungarian – Anya
Hawaiian – Makuahine
Japanese – Okaasan
Latin – Mater
Maltese – Omm
Persian – Madr
Polish – Matka
Romanian – Maica
Samoan – Tina
Urdu – Ammee
Yiddish – Muter
———————————————————
Only mothers can think of the future – because they give birth to it in their children.
-Maxim Gorky
All that I am, or hope to be, I owe to my angel mother.
-Abraham Lincoln
Motherhood: All love begins and ends there.
-Robert Browning
The most important thing a father can do for his children is to love their mother.
-Theodore Hesburgh
A mother's happiness is like a beacon, lighting up the future but reflected also on the past in the guise of fond memories.
-Honore de Balzac
Life began with waking up and loving my mother's face.
-George Eliot
Mother's love is peace. It need not be acquired, it need not be deserved.
-Erich Fromm
Happy Mother's Day from The Grammar Diva!