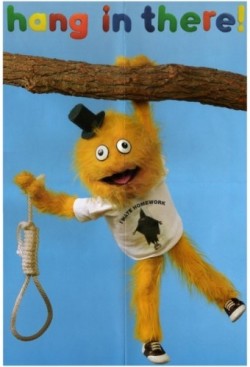 The more confusing words I write about, the more confusing words appear! Today, we tackle another ten. ENJOY!
1. alter/altar: To alter something is to change it in some way. The altar is at church.
2. got/have: Let's say my birthday was last week. Let's say I got some gifts. Now I have those gifts.  I don't got them. I have something. In the past I had something.  I get something. In the past I got it. Got is not a present tense verb, so to say I don't got any isn't correct. It also sounds crummy.
3. hanged/hung: Let's say that today I am hanging a picture. Yesterday, I hung a picture. Yesterday, I also hung the laundry out to dry (Oh, yes, we all have dryers these days….well, a bunch of years ago.) But yesterday, they hanged a man. Hanged is used as the past tense of hang only when there is a noose involved.
4. healthful/healthy: If you whip up a wheatgrass and kale smoothie (no thanks…I'll pass), you will be healthy. However, the smoothie is healthful. People are healthy. Dogs too. But when something provides you with good health, it is healthful.
5. however/therefore: These are technically not confusing words as far as when to use them. However, it can be confusing to know whether you can put commas around these words or whether you need a semicolon (or a period). Look at these examples.
I think, therefore, that I am right and you are wrong.
I study, therefore, I do well on my tests.
Here is what you do: take out however or therefore, and read the sentence without it. If you have a good sentence, the comma is fine. However, if you are left with a run-on sentence, you need a period or a semicolon.  In the first example, the commas are fine; the sentence, without therefore, reads…"I think that I am right and you are wrong." In the second sentence, if you take out therefore, you get…"I study, I do well on my tests." Since that is a run on, you need a semicolon or a period before therefore. You can also add a conjunction and keep the commas. (I study and, therefore, I do well on my tests.)
6. I could care less: Yes, this one is still around. Now think about it. If you could care less, you care some and you probably wouldn't be talking about this at all.  You are making the comment because you don't care at all. Therefore, you couldn't care any less than you already care, because you already care zero!
7. if/whether: If is often used when whether should be used. If is conditional; whether implies a choice. Here are examples:
If it rains, we won't go hiking
I don't know whether I should go hiking today. (not I don't know if I should go hiking today.)
When or not appears in the sentence, use whether.
I don't know whether I should go or not.
8. into/in to: Usually, there is not a problem with making this one word or two. But sometimes, it really matters!
I turned my car into the shopping mall. This implies that some magic was done! (…in to the shopping mall)
I turned my book into the library. Another magic trick! (…in to the library)
Most of the time into as one word will work fine!
9. irregardless: This one is still around too! It is a nonstandard word, and it is best not to use it. It contains two negatives: ir- and -less. The correct word is simply regardless. Often followed by of, it means without regard to or in spite of.
We are going regardless of the weather.
10. imply/infer: These two words are sort of opposites and go in different directions. Imply means to suggest or hint at something without coming right out and saying it. So you might imply by your smile that you are happy. Someone looking at you would see your smile and infer that you are happy. So implying is sending the information out, and inferring is taking the information in.
You can also register for the Goodreads giveaway of my novel!