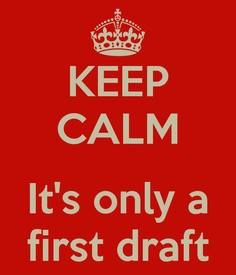 So much I could write about…the Giants winning the World Series. I could write about sports!
Halloween…I guess I could write about that.
It's almost November…National Novel Writing Month…I will write about that!
National Novel Writing Month, also known as NaNoWriMo, is a national writing contest. But you don't have to write the best to win. You just have to reach the word-count goal. That's right. If you can write a novel of 50,000 words in the month of November, you have won!
If you have always wanted to write a novel, maybe this is the time to try. No one will see it besides you. You don't ever have to publish it; however, maybe you will want to.
If you write anything at all, NaNoWriMo can provide you with inspiration. You could use the program to write nonfiction (I don't think they check). Some people use it to start their novels, since most novels are more than 50,000 words. Some writers might use it to finish novels they started years ago.  Here is how the program works.
You sign up on their website. The goal for all adults is 50,000 words. That comes out to about 250 double-spaced pages. You can put a photo, biography, and information about your book on the site, but you don't have to. You can also find writing buddies on the site. But you don't have to do this either. Then, you write your whatever-it-is into a regular Word document (or whatever program you use to write). After a writing session you copy everything you have written and then paste it into the NaNoWriMo word calculator on their website. They will give you a word count that will probably vary slightly from the word count your writing program (e.g., Word) will give you.  Next time you work on your novel, do the same thing. Copy the whole document (not just the new part), and once again paste it into the word calculator.
The program begins on November 1, so you can't enter any words into the calculator until then. And you must finish by November 30.  When you have reached 50,000 words, you will be able to print out a certificate saying you have won. You can continue writing, of course; 50,000 words is the minimum. You generally cannot print your certificate until sometime near the end of November in case you are speedy and finish your novel in 15 days! (I did mine in 24 days.)
If you write nonfiction, you can probably do the same thing; I doubt they check! However, I think you will get caught if you try to type the same word into the calculator 50,000 times! I think of these things only because I teach 7th grade and I open the program up to my students, who ask such questions.
For students, however, there is a Young Writers Program. Teachers can use it and create a Virtual Classroom that their students can join to write their novels. The teacher sets the word count, which is generally less than 50,000 words. The default for the Young Writers Program is 30,000 words, but I think that is a bit much for my classes. I think it is intended for classes that use school time to write. My students have to write their novels on their own time, so I have used anywhere from 8,000 to 15,000 words for goals. And I have had students finish. Last year I had a student write 12,000 words in one weekend!
I tell my students to give me proof they have completed their word counts by bringing in their certificates and the first five pages of their novels. It gives me some fun reading over Christmas break, and it gives them a whole bunch of extra credit!
No, I am not doing my own NaNoWriMo this year. I was planning on it, because there are a few novels I would like to write, including a sequel to the novel I wrote in 2011, the only time I have actually done NaNoWriMo. However, I am nearly finished with the workbook I really need to finish, so that is my priority this November!
When I decided to do NaNoWriMo, back in 2011, I had no idea how to write  a novel (I had never really written fiction). There is a book, written by the NaNo people that might help. It is called No Plot No Problem, written by Chris Baty, Mr. NaNoWriMo himself. There are two main ways to approach writing a novel: 1) outlining it first, 2) flying by the seat of your pants and figuring that if you sit down at the computer, the novel will write itself.
I chose method number 2. And the novel did indeed write itself. I had only a vague idea of some characters and events when I started. And the most interesting thing of all was that at about 45,000 words, the novel took a turn I never could have expected—and I went with it. I finished the novel on about November 24 and published it (under a pseudonym, since I generally write another genre of book entirely!).
One fun thing about NaNoWriMo are the "write-ins," prearranged meetings of two or more writers who gather somewhere to work on their books. It can be two people at Starbucks or a few tables of people, such as the write-ins I attended at the Glaser Center in Santa Rosa in 2011, or anything in between. It is often motivating to hear the click, click, click of other keyboards!
So, come on….get ready, get set……and write! (but wait until November 1).