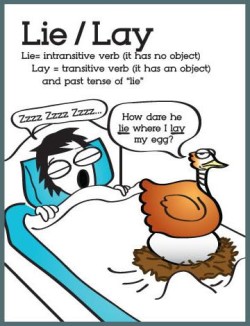 We're back with more confusing words….maybe you will find one or more here that drive you nuts  Here we go….
1. Its/It's – Most of us know this one by now (?). But if you should have a moment of confusion, as we all do, it's easy. All contractions have apostrophes: I'm, can't, don't, won't, she'll, etc. Well, so does it's! It means it is, shortened to a contraction. So when it's means it is, it is like all other contractions: written with an apostrophe. On the other hand, its without the apostrophe is possessive. And like all the other possessive pronouns (yours, ours, theirs, his), it has no apostrophe.
2. These/Those – These and those are plural. So don't use them to describe singular nouns:
Correct: These kinds of apples / this kind of apple
Incorrect: These kind of apples
3. Lay/Lie – If you are going to use lay, you need an object. In other words, you need to lay something.
I am going to lie on the sofa.
I am going to lay my purse on the sofa.
It gets more confusing in the other tenses:
Yesterday, I lay on the sofa.
Yesterday, I laid my purse on the sofa.
Every day this week, I have lain on the sofa.
Every day this week, I have laid my purse on the sofa.
4. Lead/Led – The only type of lead that has an a in it is the lead in your pencil. The verb to lead is spelled led in the past tense.
He leads the band.
He led the band.
5. Leave/Let – This one doesn't seem to be confused too often any longer. To let is to allow. We leave someone alone. We don't let him alone. But you might let him be alone.
6.  Lend/Loan – Technically, lend is a verb and loan is a noun. You lend someone money. You give them a loan; you don't loan them money.
7. Less /Fewer – Less is used with singular nouns or things you cannot count. Fewer is used with plural nouns and things you can count.
I have less money than you do. I have fewer dimes than you do.
I ate less pizza than you did. I ate fewer pieces of pizza than you did.
8. Libel /Slander – You don't want to be accused of either libel or slander. And you don't want to be the victim of either! Both will ruin your reputation. Libel is writing something negative and untrue about someone. Slander is speaking it.
9. Like/As if –  These are both used for comparison. Like is used for a simple comparison, usually followed by a noun. As if is used when a noun and verb follow.
She acts like a queen.
She acts as if she were a queen.
10. Lose /Loose:  If you lose too much weight you will lose your pants because they will be too loose. Nuff said.
Grammar books make great graduation gifts!
Still time to register for my Goodreads giveaway……