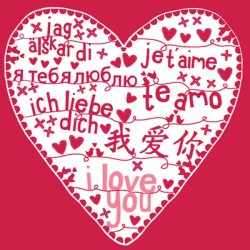 LOVE — It is both a noun and a verb.
The dictionary defines love (noun) as a profoundly tender, passionate affection for another person. That is just the first definition. There are many. And we know we can also "love" our cars, our dogs, gardening, reading, our new job, and our houses. 
The word love dates back pre-900 from Middle English. It came from the Old English lufu. Cognates include the Old High German luba and Old English lufian, as well as Old Frisian luvia.
Synonyms for love include fondness, passion, tenderness, adoration, affection.
There are some interesting words that specify certain types of love and cannot be translated into English:
Mamihlapinatapai (Yaghan language of Tierra del Fuego) – This word describes the look shared by two people who are each waiting for the other to make the first move. Oh, you know that look!
Koi No Yokan (Japanese) – This word describes the feeling upon meeting someone that love is in the cards, in time.  Not quite love at first sight, but almost!
Retrouvailles (French) –  This is the happiness you feel when reuniting with a love after a long separation.
Onsra (Boro language of India) – This word means to love for the last time.
Ya'aburnee (Arabic) – I do not even want to imagine life without you!
Although there is only one word for love in English (save the not-quite-right synonyms),  Sanskrit tops them all with 96 words. Ancient Persian has 80, and Greek 3. 
The suffix -phile means a lover of or enthusiast of. Bibliophile is a fairly common word meaning someone who loves books. And the word audiophile has been around for quite a while to describe someone who is an enthusiast of speakers and other audio equipment (love in a hobby kind of way!)
There are many other interesting words with the -phile suffix. Some are not immediately clear from the root word: for example, bookphile might be clearer to many people than bibliophile. By the way, -phile comes from the Latin philus  and the Greek philos  (dear, beloved).
autophile – Jay Leno, for example! A car enthusiast.
acidophile – An organism that thrives in acidic conditions.
bulbophile – A person obsessed with bulb plants!
caninophile – Yup, dogs! That defines many of us.
cryophile – An organism that thrives at low temperatures. 
computerphile – Yes, I think that for most of us, it is a love/hate kind of thing.
discophile – One who loves records (remember those?). Apparently not one who loves the disco!
foodophile – OK, I admit it!
galanthophile – An enthusiastic collector of snowflakes.
hippophile – Someone who loves horses (not hippos?).
Lusophile – One who loves the Portuguese language and culture.
ostreaphile – A love of oysters.
paperphile – Yup. That is what it means!
pogonophile – One who loves or studies beards. (It takes all kinds; and I love beards!)
retrophile – One who loves things from the past.
taphophile – One who is interested in cemeteries, funerals, and gravestones.
turophile – A lover and connoisseur of cheese.
umbraphile – One who loves seeing eclipses.
xenophile – Lover of foreign cultures and people.
And that is your lesson on love. Happy Valentines Day from The Grammar Diva!