I don't know how the summer went by so fast, but it is August, and the first day of school is quickly approaching!
Just wanted to let you know that two of my grammar books are on sale today through August 15 in the Kindle Editions.
Instead of their regular Kindle price of $8.99, each book is now $5.00! (Recommended for ages 11-adult.)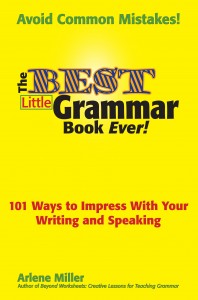 "A user-friendly, practical, and immensely helpful book on grammar and usage. This volume should have a place on every writer's shelf. Highly recommended." Sheldon Siegel, New York Times bestselling author.
"Arlene Miller gives us the fastest, easiest keys to grammar. Without her help, I wouldn't know whether I was laying or lying down the law — and I wouldn't even try to compose a novel." Ransom Stephens, author of The God Patent.
And as always, these books are available from Amazon and all online booksellers in paperback!