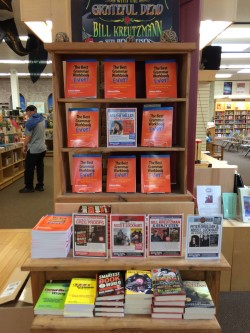 I was so busy getting ready for my book launch a couple of days ago that I forgot I had a blog post to write! I have been writing this blog for over two years, a post sometime every weekend, and I haven't missed a post yet. So, if you added yourself to the mailing list at the book launch, you will be reading some of what you heard, and I apologize. However, if you look back at previous posts, I know you will find some interesting things!
Back to the launch: Usually when I speak before a group, I use a grammar quiz, so it is interactive. This is probably the first time I have given a true 30-40 minute speech, so it did take some time to prepare. I had 13 pages of notes! Of course, they were printed in 16-point type, so I wouldn't need my reading glasses.
I talked about the state of the English language and then gave some history of how it came to the point it is at now. Then I presented some things that have been in previous blog posts: funny phobias, readers' pet peeves, and interesting things about the language. 
Thank you to everyone who came to the launch, by the way! It was standing room only, with many seats taken by enthusiastic 7th graders! Yes, there were adults there, and even a dog! We had some laughs, we sold some books, we ate some cake . . . it was a good evening.
So where did this crazy language of ours come from, anyway?
English is a hodgepodge of, among other things, Latin, Greek, French, German, and Dutch. 
Chaucer was the first person to choose to write in English, but Shakespeare was the most famous. He added many words to the language. Words first seen in Shakespeare's plays include accommodation, assassination, dexterously, dislocate, indistinguishable, obscene, premeditated, reliance, and submerged.
Many of our common idioms were either coined by Shakespeare himself or were first seen in his plays: it's Greek to me, salad days, vanished into thin air, refuse to budge an inch, green-eyed jealousy, tongue-tied, fast and loose, tower of strength, in a pickle, knit your brows, slept not a wink, laughed yourself into stitches, had too much of a good thing, have seen better days, lived in a fool's paradise, the long and short of if, foul play, teeth set on edge, in one fell swoop, without rhyme or reason, give the devil his due, dead as a door nail, eyesore, laughing-stock, and devil incarnate.
Did you know that Shakespeare had one of the largest vocabularies of any English writer — 30,000 words? Estimates of an educated person's vocabulary today is a mere 15,000 words.
The King James Bible, published in the year Shakespeare began working on his last play, The Tempest, contains only 8,000 different words.
The first English dictionary was published in 1604 with 120 pages, the same page count as my first book, The Best Little Grammar Book Ever! Perhaps it should have been called The Best Little English Dictionary Ever! — but it was called A Table Alphabeticall, written by Robert Cawdray. It contained "hard words for ladies or other unskillful persons."
In 1806 Webster published his first dictionary, having written some grammar and spelling books prior to writing the dictionary.
And here is how our language became so colorful:
Let's talk about the Irish for a minute: The word brogue sounds like the Irish word for shoe: the Irishman was said to speak with a shoe on his tongue! Some details of American grammar, syntax, and pronunciation are from the Irish, such as I seen instead of I saw and youse for the plural you.
 Black English, for many, represents the disadvantaged past, slavery, something best forgotten, yet we gained some rich language: voodoo, banjo, banana, high-five, jam sessions and nitty-gritty.
Jive talk from the musicians and entertainers in Harlem added to this list: chick, groovy, have a ball, this joint is jumping, square, and yeah, man.
The first pioneers to arrive in this country needed to make up some new words. Some of these first Americanisms are lengthy, calculate, seaboard, bookstore, and presidential, with pretzel, canyon, and wigwam from the native Americans.
New Orleans gave us words like brioche, jambalaya, and praline. (Yum!)
Gold rush words include bonanza (originally meaning fair weather in Spanish), pan out, stake a claim, and strike it rich.
Yiddish words come from the Jewish-Americans, many of whom were in the media, many of them comedians: chutzpah, schlep, shtick, mensch, nebbish, schlemiel, schmooze, meshugunner, and yenta.
I think I will stop here. There are obviously newer additions to the language: surfer talk, Valley Girl words, and now tech words — and emojis, which aren't words at all!
I would like to thank everyone who supported me by coming to the book launch; Copperfield's Books for once again hosting me in fine style; and The Story of English by McCrum, MacNeil, and Cran for providing me with much of this information!
Next week: Yes, back to the Seven Deadly Sins of English series!