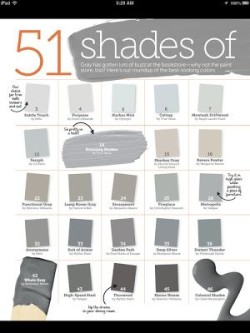 Well, the Fifty Shades of Grey book series had three, so why not three (or maybe four) installments here too? If it weren't for the continuing great responses from you readers, I wouldn't have so many shades of grammar to write about! Hopefully, these are all new shades:
1. etc. — Lots of problems with this one. First of all, it is different from both e.g. and i.e., which will be discussed later! Second, it isn't ect. Third, it means "and so on," so don't say "and etc." or "etc. and so on." Those are redundant. Last, there is a period after etc. and a comma before it.
I love all kinds of berries, including blueberries, strawberries, raspberries, etc.
2. Amount and number — People on the news are still confusing amount and number, which is similar to less and fewer. Number is generally used with something countable. Amount is used with something uncountable or singular:
The number of accidents on Highway 50 has declined in the past year.  It is not the amount of accidents.
The amount of crime in the city has declined since last year. (But the "number of crimes")
3. Double stuff — There are double negatives, double comparisons, and even double possessives, and we don't like any of them!
There isn't barely enough money left to pay the bills. (double negative: should be is barely)
I think he is more honester than his brother. (double comparison: should be more honest)
This is the book of Mike's that I borrowed. (double possessive: Mike's book; book of Mike)
4. e.g. and i.e. — They are different: e.g. means "for example." i.e. means "that is" or "in other words."
I love to read scary books, e.g., books in the Goosebumps series. (for example)
I love to see really scary movies, i.e., I love to be really scared! (in other words)
Both e.g. and i.e. have two periods and are preceded and followed by commas.
5. Elicit and illicit —  These words are really close in pronunciation, but they are sure different in meaning, so don't confuse them! They are also different parts of speech.
Elicit is a verb (with the prefix e meaning out) which means 'to draw out," such as to elicit a response from someone.
Illicit is an adjective meaning "illegal, improper, or not allowed."
6. Fith — Beethoven didn't write a Fith. He wrote a Fifth!
7. Tumeric — As you saw with the spelling of cardamom, I am no cook. And I could have sworn it was tumeric. I always pronounced it (on the rare occasion I said it) toomeric. Come to find out its turmeric with an r in the first syllable. Who knew?
8. Crayon — So we were having a discussion at lunch the other week about the pronunciation of this word and whether different areas of the country pronounce it differently. My co-worker and I said it was crayon pronounced cra-un. Someone else thought we were crazy and it was pronounced cra-yawn. Which is it? Yeah, I could look it up, but what fun would that be?
9. Happy Birfday! —  Well, I wouldn't be happy if you said that to me on my birthday, which is incidentally, on September fith.
10. Caramel — Not unlike #8, there is much ado about this pronunciation. Is it car-mel? or ca-ra-mel? Personally, I pronounce it carmel.
11.Supposably — Easier to say, but it's supposedly.
12. Goes — I didn't agree with Jack. I told him the book was better than the movie. But Jack goes,"I hated that book! The movie was way better!" And then my sister goes, "I hated them both." Says is not the same as goes, is it? It's says (or said)
13. Let's do 13, because it is lucky day, Friday the 13th! So where did this sentence come from?
I just got my hair did. (Done you really now?)
Did you get your nails did too? Or can you only get hair did?
——————————————————————
I would like to mention a few things:
1. I will be talking and showing (and selling) my books at the Sonoma County Library, main branch in Santa Rosa at the Local Author's Symposium on Saturday, March 28.
2. I will be launching my Best Grammar Workbook Ever at Petaluma Copperfield's on Friday, May 15 from 7 to 9 p.m. Come to this event if you are local!
3. It is just about "did," and it's a good thing!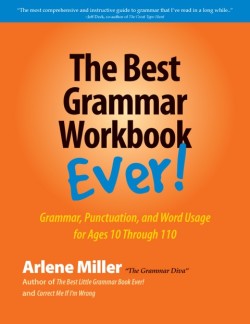 4. Looking for ideas and guest writers for this blog. If you have something you would like me to write about, please let me know (info@bigwords101.com).