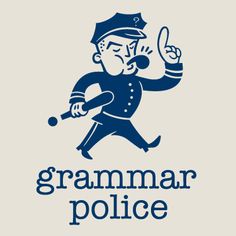 People who like to follow grammar rules are often called The Grammar Police or Grammar Nazis. I don't know why such militant names have been assigned to us, but I will let you chew on that . . .
This week's post is not about grammar. I notice that whenever I deviate from writing about grammar — for example when I interview an author or other colleague — subscribers seem upset. A few unsubscribe; comments decrease. On the other hand, blogging experts say bloggers should not be pigeonholed into always writing about their area of expertise and should be able to express themselves, as their readers want to get to know them better.
Whatever the case may be, I have decided to write another type of post this week. Grammar will return next week with Part 2 of the Comma Series. 
This has been a disappointing week for social liberals. As many "old" people do, I  listen to talk radio, I watch CNN when there is a big story (since they do go on and on about it), and I only very occasionally call in to talk radio although I am often tempted to. Although I have been on talk radio (Ronn Owens, KGO), I still always feel cut short when I call, so I tend not to. I also post my opinions on Facebook, which maybe I shouldn't do. My mother, who was not often complimentary to me, said that I was quiet and never talked, but when I did talk, I talked at the wrong time. Sometimes I feel that her words are true and that I should keep my mouth shut on social media. But I digress . . 
As I said, this has been a disappointing week for social liberals. First there was the threat of unfunding Planned Parenthood, which leads to the abortion issue once again. Then there was the Pope and all the publicity he received, the end of which was his talk with Kim Davis, which brought up the gay marriage issue. Then, finally, there was the umpteenth mass shooting, which brought up the issue of gun control.  
I never considered myself a political person. I generally don't follow world events , or even national news, that closely. I do usually vote, always for President, and in some other elections as well. But I do have some strong feelings about some social issues, namely, choice, gun control, and the separation of church and state.
If you don't want to hear my opinions, you can stop reading here. But these are just my opinions and you certainly don't have to agree. 
Choice: I am pro-choice. No two ways about it. I am also pro-Planned Parenthood.
Planned Parenthood is a women's health service. Among its services are abortions. It does other things, and  abortions are not funded by our taxes. 
Check out this video by Bill Nye to see how, scientifically, the anti-choice argument doesn't make sense.
What constitutes a viable human being is often a question of religion. Since we have freedom of religion, you can't impose your religious beliefs on me or anyone else. Separation of church and state.
A man will never go through an unwanted pregnancy. I mean REALLY go through it. So, in my opinion, men really don't have a whole lot of say in this. And they have NO say at all unless they are involved in a specific situation with a specific pregnant woman.
I am tired of hearing how everyone who goes through a pregnancy termination is forever regretful and traumatized. This is just not true. 
Children who are born to women who cannot afford them and are in no position to raise them are expensive for taxpayers if you want to talk about finances. They often also have traumatic lives.
In my opinion, there is probably a huge overlap of people who are anti-choice and those who oppose gun control. So . . .terminating a pregnancy is murder , but mass shootings aren't?
Abortion is legal. It has been legal since Roe v. Wade in 1973.
Separation of church and state: I have a firm belief in the separation of church and state.
I do identify with a religion, although I wouldn't consider myself extremely religious.
The United States is a democracy — a government run by the people and for the people. It is not a theocracy, a government run by religion. So says the Constitution.
To me, the Pope is a religious figure. He is the head of the Catholic church. He is not a politician. 
I questioned why the Papal visit was so highly publicized. I don't believe the main religion in this country is even Catholicism. However, it did no harm, I guess. Until . . .
Most law-abiding Americans did not get 15 minutes with the Pope during his visit to America. Yet, Kim Davis, who has broken the law in her clerk position, did. I don't personality care what her views on gay marriage are. Her job is to process marriage licenses. Her personal religious views cannot rule her job performance. She did not do her job.  Apparently, she was appointed to her position, so she cannot be fired.  Why can't she be fired? And more important, who appointed her? And why is the Pope cheering her on, if that is indeed what he did, although the Vatican apparently now denies that. The Pope, great Pope as he may be, should not be influencing social issues in this country that are LAWS! 
Gun control: Not too difficult to figure out how I feel about this one!
At one point in my life, there were guns in my house. They were not mine, and I did not like them there.  I did even shoot targets one or twice at a shooting range. It was an experience I  probably could have lived without.
I don't understand hunting, but if you want a hunting gun, fine. However, you probably don't need an arsenal of them. And one idea is renting hunting rifles when you need one to hunt. (I don't think there have been many hunters who then became mass murderers.)
I don't understand target shooting either, but you want to go to a shooting range, fine. You don't need an arsenal, or a semiautomatic for this either. And you could always rent a gun at the range. 
Having a gun by the bedside to protect yourself is not effective, as is borne out by the evidence. More people shoot family members or other innocent people than ever actually save themselves from intruders with guns.  However, if you insist, have a gun by the bed. One gun.
We can put chips in credit cards and in dogs. If we put a chip inside guns we could track them. 
Why does anyone need a semiautomatic? For hunting? For target practice? Get rid of them. 
Why does anyone need six or ten or fifteen guns? Unless they collect guns, there is no good use for an arsenal of weapons. Limit the number of guns someone buys. 
How about background checks? How about the videotaping all gun purchase transactions? How about not selling guns online? How about background checks at gun shows? How about people actually doing the required checks?
Yes, I know. There's the black market. Gun laws will result in only the lawless having guns. If everyone had a gun, those mass shooters would be killed before they could do harm. I know the arguments. However, countries with stricter gun laws have fewer shooting deaths.
Yes, I do think it is something more than the gun laws. It is something with our society that glorifies violence. There is something about our society that is very different from the society, say, in Japan, where there are barely any gun fatalities. 
Yes, there needs to be something done about mental health issues. But, in my opinion, it is easier to tighten gun laws that to fix the mental health issues. That takes time and is much more complex than tightening gun laws.
Oh, yes, there is that second amendment right to "bear arms." I guess 230 years ago, you may have needed a rifle to defend yourself. Things are a little different now. Maybe we just shouldn't have that right any longer. And did "bear arms" mean to own an arsenal of 15 weapons, including  semiautomatics?
If everyone could carry a gun around, things would be a lot more peaceful. Someone would have shot that guy who ran onto the campus in a bulletproof shirt and carrying four guns. Not only is that probably not true, but I don't want to live in a world like that. Do you?
If no one had a gun, police wouldn't need guns either. Not even the Grammar Police.