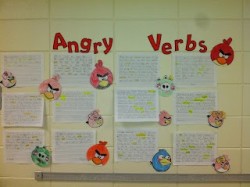 You've heard of angry birds. Well, how about angry verbs????
Have you ever heard a perfectly well-educated person say, "I have went . . ." Most likely you have, and so have I. I liken it to the squeaking of chalk on a blackboard (do they even have those anymore?).
Other verbs are similarly misused: I have wrote, we have swam, the bell has rang,  the water has froze, and so on.
The issue here is irregular verb forms. Verbs have three forms: base form, past tense, and past participle. Regular verbs, which the majority of verbs are, add an -ed to the end to form the past tense and part participle forms.  But many, many verbs are not regular.
Here are a few regular verbs:
Base                 Past                   Past Participle
walk                    walked                (have) walked
play                    played                  (have) played
study                  studied                (have) studied
Like the word study, words that end in y generally change the y to an i and add the -ed. These verbs are still considered regular.
What are these forms used for? They are used to make different tenses. This post isn't about tenses; however, there are six main tenses (and then another six companion tenses, but that is another blog post). However, these three verb forms are the only ones used in making different tenses.
Of course, the present tense is the verb in its base form: I walk
The past tense uses that second form: I walked
The past participle is the form of the verb you would use with have, has or had. These are yet other tenses: He has walked, I have walked, we had walked.
Although this post isn't technically about tenses, let's clear up the difference between I walked (past tense) and I have walked (present perfect tense). They are not interchangeable even though they are both in the past.
You wouldn't say, "I have walked to the store yesterday." You would say, "I walked to the store yesterday."
What is the difference? The past tense (walked) is used for something that you did, and now it's finished. The present perfect tense (have walked) is used for something that began in the past but may be continuing in the present. For example: "I have played tennis for ten years" implies that you are still playing. "I played tennis for ten years" implies you may no longer be playing. 
So back to the forms. Regular verbs are easy. But there are so many verbs that do not follow the regular pattern.
Some verbs do not change at all in the three forms. They are always the same: Burst, cost, and set are three of these verbs. There is no bursted, costed, or setted. Others are put  and let.
Example: I am setting the table. Last night I set the table. Every night this week, I have set the table.
Here are some of the trickiest irregular verbs:
begin, began, have begun
bring, brought, have brought
choose, chose, have chosen
drink, drank, have drunk
freeze, froze, have frozen
go, went, have gone
lend, lent, have lent
ring, rang, have rung
rise, rose, have risen
run, ran, have run
shrink, shrank, have shrunk
speak, spoke, have spoken
steal, stole, have stolen
swim, swam, have swum
take, took, have taken (there is no tooken!)
write, wrote, have written
Then, of course, there are the really crazy ones, the craziest of which are lie and lay.They are two separate verbs. Here are their forms:
Base                Past             Past Participle
lie                       lay                    have lain
lay                     laid                    have laid
So lay is actually pretty regular, as verbs go.
The moral of the story? If you are unsure of a verb form, just look it up! My new workbook does have a section about irregular verbs. You can also find your answer in a dictionary (online or paper), and in some grammar books.
Please share this post with your friends!