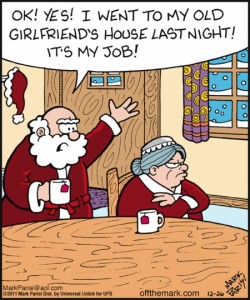 Perhaps you have always wanted to get paid to be Santa. Well, it is a little late to find one of those plum jobs this year, but here is some information you might want to know for next year. 
The pay isn't great. The going rate for Santa is about $10 or $12 per hour — unless you are a Santa who is hired out for private parties, in which case you might make about $18 per hour.
Here are some requirements and information for would-be Santas from real Santa want ads. My comments are in italics and parentheses. I have printed the important information in boldface:
1.Real bearded Santa Claus for our mall location (is that a real Santa or a real beard???). Must be able to stay in character and be great with children and families. Provide the full Christmas and Santa experience to guests. Financially rewarding and  incredibly emotionally rewarding! We provide a competitive salary with bonus incentives. All applicants must pass a national background check.
—————————–
2. Actors to portray Santa Claus at a local store. We will provide a custom-made Santa suit; you must bring the jolly appearance and experience for the part. You must be customer-service orientated and truly enjoy working with children. You must possess a true care and concern for fulfilling the Christmas dream for thousands of children.
Previous experience as Santa
Possess a jolly personality and laugh
Must be able to attend training classes 
Ability to meet a high volume of children
Must be able to pass a drug test
Must pass a background check
—————————-
3. Santa Claus to engage patrons into conversation. Meet and greet customers interested in communicating and taking photographic picture with Santa Claus. (Is there another kind of photo?)
Duties and Responsibilities:
Regularly communicates with patrons as they approach to talk and/or prepare for photos.
In a jovial manner engages customers in conversation for purposes of relaxing children to take photo (picture) with Santa (in case you don't know that a photo IS a picture!).
High degree of professionalism, both visually and verbally, which exceeds customer expectations at all times when speaking to customers (adults and children).
Adheres to uniform standards by wearing Santa Claus costume at all times when greeting and meeting customers.  
Exercises tact, good manners, and courtesy when interacting and assisting customers and fellow associates.
Job requires long hours in sedentary position, and lifting of children to place upon lap while communicating and/or preparing for photographic picture. (Photographic picture? Do they mean pornographic??)
Performs other related duties as assigned. (Cleaning the bathrooms??)
———————————
4. Historic Hotel  is now hiring for a part-time Santa Claus.
POSITION SUMMARY:
Meet and greet children and their families dining at the Sunday Musical brunch.
SKILLS REQUIRED TO PERFORM ESSENTIAL DUTIES:
Strong customer service orientation
Strong listening skills and patience
Ability to deal well with people in a professional and courteous manner
Excellent phone skills (Are we calling Santa too?)
Proficiency in Open Table software (making dinner reservations?)
QUALIFICATIONS:
Must be 18 years of age or older. Must have a high school diploma or equivalent. Must be able to communicate effectively, both verbally and written, in English. Proficiency in Open Table is a must. Excellent hospitality skills. Self-motivated with excellent organizational skills and attention to detail. Ability to work a flexible schedule including extended hours, weekends and holidays.
PHYSICAL REQUIREMENTS:
Applicants must have the physical capability to lift, push or pull at least 30-50 pounds. Also, applicants must have the ability to use abdominal and back muscles and be able to stand for the duration of the shift. Must also have the ability to make fast, simple, repeated movements of the fingers, hands, and wrists, and to reach and stretch, bend, kneel and squat. (Is Santa going to dance?)
There will be a pre-employment drug screen, physical, and a nationwide criminal background check. Previous employment will be verified and references will be thoroughly checked.
Competitive wages based on experience and great work environment. Experience: Professional Santa Claus for 1 year
———————————–
5. Mall seeking an outgoing, jolly individual(s) to be Santa Claus for the 2015 Holiday Season! No Experience Necessary and Santa Suit Provided.
———————————–
6. This is a sales position for Santa Claus photos with children.
Employee will be required to show photos to parents, help them choose, make the sale and print the photos.
Applicant should be:
Friendly, reliable and have basic computer skills (iMac).
Salary: $12.00 /hour
————————————————–
If you read this blog regularly, you know I have a fondness for phobias. They are entertaining and unusual. Here are some phobias that, if you have them,  might ruin your holiday season: 
fear of alcohol – methyphobia
fear of anything new – neophobia
fear of the color red – erythrophobia
fear of church – ecclesiophobia
fear of cooking  – mageirocophobia
fear of dolls – pediophobia
fear of eating – phagophobia
fear of food – cibophobia
fear of holy things – hagiophobia
fear of home – ecophobia
fear of ice or frost – pagophobia
fear of kissing – philemaphobia (watch the mistletoe!)
fear of laughter – geliophobia
fear of light – photophobia
fear of memories – mnemophobia
fear of religion – theophobia
fear of snow – chionophobia
The Grammar Diva Blog may take Christmas off. Or maybe there will be a lighthearted post….then, we will have the new Grammarians' New Year Resolutions post, after which the comma series will resume.
Happy Holidays from The Grammar Diva!