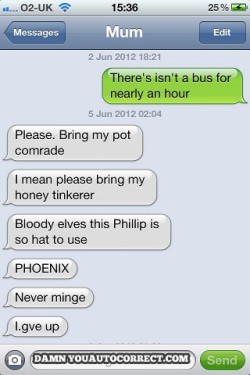 I was recently sending a message on Words with Friends. I was writing the simple word men. Auto correct wrote it as Mennonite. Last week I was attempting to text the word ouch. Auto correct changed it to polychrome. I have had auto correct change innocent words to slut and change lunch to lust. Lesson learned: Either turn the thing off or make sure you look at what you have written before you send it!
Siri (or whatever you might call that imaginary friend you have on your phone) is equally obtuse. If you ask her to send a text, don't trust her. She apparently has poor hearing. Always check out a text she has written for you before you send it.
I must admit I don't pay much attention to what I have set on my computer. There is auto correct, and then there is spell check (and grammar check). I guess auto correct can be helpful (?), but you must always proofread anyway!
Which brings us to spell check. Spell check is a wonderful invention. Whenever you write anything, you should run it through whatever spell checker you have available.  Certainly, if you have a book manuscript, you should run it through spell check before you submit it to an editor.  Whenever I receive a book manuscript to edit, and I can tell it hasn't been run through spell check, I wonder why the author didn't bother to do that. If the editor has to make the changes it costs time (and therefore, money).  Yes, as an editor, I always do run it through spell check when I am finished with it in case I have missed anything.
If you are writing a book, running it through spell check is enough before you submit it to an editor. The editor should catch what spell check didn't. However, if you are writing something that will not be edited by anyone else, DON'T RELY ON SPELL CHECK. You probably know this by now:
Spell check will not catch the fact that men has been changed to Mennonite by your autocorrect, since spell check doesn't care what is being written as long as it is spelled erectly. (There you go . . . autocorrect. You wouldn't want correctly to go out to the public as erectly now, would you? And while we are on the subject, you would't want public to go out as pubic either . . . would you?)
Spell check will not find the pesky typos we all make: its versus it's; there versus their, your versus you're. You (or your editor) need to go through the document to make sure none of that stuff exists.
Sometimes spell check is packaged along with a "grammar checker." Other times, they are separate. There are also some grammar checkers online that you can run your writing through, some free, some for a fee. I am not too familiar with them because I don't use them. I know that Grammarly has a pretty good one for a fee. I would love to put a grammar checker on my website, but my technical know-how (and likely my wallet) prohibit it at this time. 
BUT. . . even if you use a grammar checker, you still need to proof your own work afterwards. Sometimes the grammar checker (like spell check) will stop at each "mistake" and you can decide whether to fix it. Many times they aren't mistakes at all, but intentional. For example, a grammar checker may point out that you have written something in passive voice. It doesn't like it. However, there is nothing illegal about passive voice, and you may have done it for a good reason. Same with fragments: grammar checkers don't like them, and with good reason. However, sometimes people use sentence fragments in their writing for a reason. 
I think grammar checkers are fine, especially for the more writing challenged. However, you cannot always listen to them. Why? Because THEY AREN'T HUMAN and they don't have the same type of brain that humans do. 
Lesson learned: Autocorrect is helpful (well, that is debatable). Spell checkers and even grammar checkers are helpful and great inventions for all of us writers. However, the human touch is also necessary, because our brains can discriminate. When you use writing tools, always make sure that you have the last word (and the last look).
It 's less than two weeks away! The Best Grammar Workbook Ever! launch at Copperfields in Petaluma: Friday, May 15 at 7 p.m. I will be presenting an entertaining (we can only hope) talk, there will be chocolate cake, there will be a giveaway, and if you reserve your seat ahead of time, the book (if you should want to buy it) will be 20% off for you. I  I hope to see you all there (unless you live in England or something).