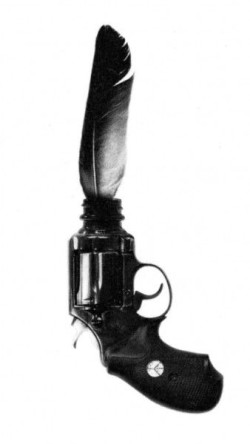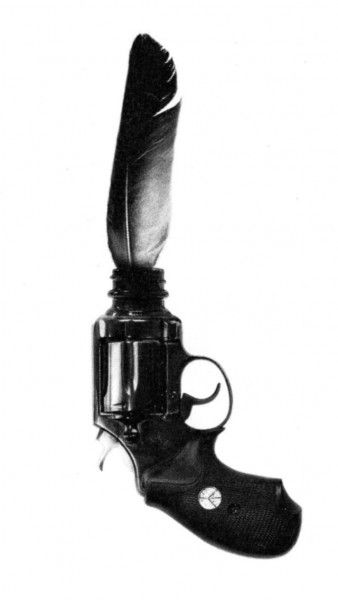 "The pen is mightier than the sword."
The recent events in Europe have once again reminded us of this quote. So I thought I would write a bit about the origin of the quote, as well as find some other quotes that are appropriate for these times.
The English words "The pen is mightier than the sword" were first written by novelist and playwright Edward Bulwer-Lytton in 1839 in his historical play Cardinal Richelieu.
Richelieu, chief minister to King Louis XIII, discovers a plot to kill him, but as a priest he is unable to take up arms against his enemies.
The saying quickly gained popularity, says Susan Ratcliffe, associate editor of the Oxford Quotations Dictionaries. "By the 1840s it was commonplace." (And interestingly, because Bulwer-Lytton is also known for his famous opening line "It was a dark and stormy night," an annual contest for badly written first sentences is named after him.)
According to the Cambridge Dictionaries website, the quote emphasizes that "thinking and writing have more influence on people and events than the use of force or violence."
However, the sentiment of the quote was uttered by many prior to Mr. Bulwer-Lytton.
There was a belief in classical times that the written word had the power to survive "and transcend even the bloodiest events… even if they didn't actually prevail against arms in the short term," according to Armand D'Angour, classics professor at Oxford University.
The Greek poet Euripides, who died in about 406 BC, is sometimes quoted as writing, "The tongue is mightier than the blade." 
George Whetstone in his Heptameron of Civil Discourses, published in 1582, says, "The dashe of a Pen, is more greeuous then the counterbuse of a Launce." (The dash of a pen is more grievous than the counter use of a lance.)
In the early 17th century, Robert Burton, in The Anatomy of Melancholy, says that "A blow with a word strikes deeper than a blow with a sword" was already an "old saying."
According to Michael Broers, professor of Western European history at Oxford University, "Napoleon realized the power of the press."  When Napoleon came to power, he suppressed most of the dozens of newspapers in France, sanctioning only a few publications.
Napoleon is sometimes quoted as saying, "Four hostile newspapers are more to be feared than 1,000 bayonets." 
Some other quotes that might remind us of the current times:
It is the test of a good religion whether you can joke about it. ~G.K. Chesterton
The role of a writer is not to say what we all can say, but what we are unable to say. ~Anaïs Nin
And by the way, everything in life is writable about if you have the outgoing guts to do it, and the imagination to improvise. The worst enemy to creativity is self-doubt. ~Sylvia Plath
Ink and paper are sometimes passionate lovers, oftentimes brother and sister, and occasionally mortal enemies. ~Terri Guillemets
Words — so innocent and powerless as they are, as standing in a dictionary, how potent for good and evil they become in the hands of one who knows how to combine them. ~Nathaniel Hawthorne
I write because I'm afraid to say some things out loud. ~Gordon Atkinson, reallivepreacher.com
All violence is the result of people tricking themselves into believing that their pain derives from other people and that consequently those people deserve to be punished. ~Marshall Rosenberg
The man who strikes first admits that his ideas have given out. ~Chinese Proverb
It is clear that the way to heal society of its violence… and lack of love is to replace the pyramid of domination with the circle of equality and respect. ~Manitonquat
Nonviolence doesn't always work – but violence never does. ~Madge Micheels-Cyrus
Victory attained by violence is tantamount to a defeat, for it is momentary. ~Gandhi
Those who deny freedom to others deserve it not for themselves. ~Abraham Lincoln
The pen is mightier than the sword. –  "La plume est plus forte que l'epee."
(Credit to Quotegarden.com and Wikipedia)