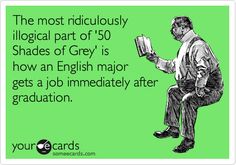 You may think it is a cheap shot, riding on the coattails of a bestselling book and movie . . . but how could I resist? And I am certainly not the first! Anyhow, we will cover 25 shades today and the other 25 in Part 2, next week.
I have been collecting comments on your pet peeves, unusual things you hear, etc.; the Fifty Shades of Grammar posts will be an entertaining (I hope) hodgepodge of some of those comments you have provided to me.  So let's get going, shall we?
Shade 1. One peeve I received was "people who have grammar peeves, and prescriptivists." We prescriptivists are those grammar conservatives who believe there are rules to be followed (control freaks), as opposed to the descriptivists, who believe language is formed and changes according to how people talk; there are standard conventions, maybe, but not rules.
Shade 2. Some people are bothered by those who say "a myriad of" instead of just "myriad." There are probably myriad reasons why.
Shade 3. This one is mine, although I have heard others mention it. It is so weird. You have heard it a zillion times, and you have probably used it: a whole nother. Since when is nother a word? I think it means "another whole" or "a whole other." But that's a whole nother story.
Shade 4. I always thought the saying was "all of the sudden." Then, I edited some things that said "all of a sudden." Which one is it? Most people say it is "all of a sudden." I stand corrected. How about just suddenly?
Shade 5. Do you know how to spell out BBQ? I don't think I did, and it was someone's pet peeve. Barbecue. There is no q at all.
Shade 6. People using anxious when they really mean eager was a peeve. Anxious involves some fear or discomfort. Eager is ready to go!
Shade 7. Confusing chastity with celibacy was mentioned. Apparently priests have a vow of chastity, not celibacy.
Shade 8. There is a word converse. There is a word conversation. There is no word in between: conversate.
Shade 9: Women have been noted to do this more than men do.  Maybe not so much anymore. Women tend to end their statements as if they were questions?
Shade 10: Here is a rather unusual way of saying something. Here again, let me make it clear that we are not making fun of anyone, and that many of these pronunciations and ways to say things are regional, cultural, or whatever you would like to call it: Explain me instead of explain it to me. I think I have heard this one.
Shade 11. When someone says "Good for you?" are they really saying "I couldn't care less what you are doing"?
Shade 12. Some people had a negative thing about grammar checkers. I personally have a negative thing about autocorrect.
Shade 13. Goed. Apparently more common among students. And I would think, young ones at that.
Shade 14. Lots of us loathe this one: Have went coming from educated people (it's have gone.)
Shade 15. If someone does a complete turnaround, he or she did a 180, not a 360 (a 360 would mean they are at the same place as they were, doesn't it?)
Shade 16. Misplaced prepositional phrases like "He was shot in the car." Is that near the arm or the leg? And of course, misplaced participles. Here is a restaurant review someone saw: "Sitting on a bed of mashed potato, served with vegetables, I would have been impressed with that alone."  The commenter said he indeed would have been impressed seeing the reviewer sitting on a bed of mashed potatoes!
Shade 17. "I might could go." Sounds like people from somewhere say this, but I don't know where. Does anyone know?
Shade 18. This one is weird to me. I don't know where it is said, but not in the United States: "I was sat in the chair" instead of "I was sitting in the chair," and "I was stood in the corner" instead of "I was standing in the corner."
Shade 19. "It begs the question" used instead of "It raises the question" irked someone.
Shade 20. Leaving out the article, which I know is British(??). "We visited him at hospital" instead of "at the hospital." Does anyone know any rules about this one?
Shade 21: Meteorologists seemed to receive a lot of criticism about their speech. Here is one: "Let's get a check on the weather" or "Let's get a check of the weather"  instead of just "Let's check the weather."
Shade 22: Starting a sentence with More important, rather than More importantly. More importantly can be a transition word, but more important is a comparison.
Shade 23. Revert back used by "professionals who should know better." Can you revert forward?
Shade 24. You can "Save up to 50 percent and more." 49? 50? more than 50? 49 and more than 50?
Shade 25. Schools using the word release instead of dismiss. I know this one to be true. We have early release days. Release, however, apparently applies to incarceration (and murder if you have read or seen The Giver, who coincidentally lives in a society that is only shades of gray.)
There you have it. Twenty-five shades of gray grammar this week, and twenty-five more shades of gray grammar next week. Have a colorful week!