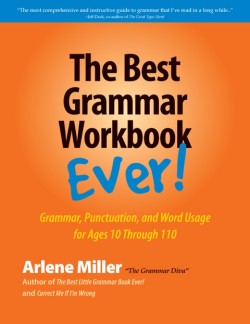 Go to the head of the class! Whether you are a student, parent, soon-to-be graduate, job seeker, writer, professional, nonnative English speaker, or anyone who ever has to write anything in your job, The Best Grammar Workbook Ever! will help you.
Starting with grammar basics and continuing on to more complex issues and grammar problems,the book will  answer every question you have. It is filled with over 100 tests and practices exercises,to get you to the head of the writing class, regardless of your age!
Here is just some of what is included:
Pretest and post test so you can see your progress
Practices and a chapter test in every chapter
Appendixes including a complete answer guide, a glossary, commonly misspelled and mispronounced words, and Greek and Latin roots
Clear explanations and examples of all types of grammar issues: sentence variety to make your writing interesting and give it flow; subject/verb and pronoun/antecedent agreement; irregular verb forms, avoiding misplaced modifiers; possessives; punctuation; capitalization; using phrases and clauses; avoiding fragments and run ons; pronoun problems such as who and whom and I and me; comparison; writing with parallel structure; clarity in writing; using slang and abbreviations; using numbers; and much, much more.
If you received a complimentary PDF, please take a look through the book and post a review on Amazon. If you purchase the book, a review on Amazon would be greatly appreciated. Although the book is not an e-book yet, it will be! Buy it now on Amazon, other online retailers, or check bigwords101 for other buying options.
And if you are local, don't miss The Best Grammar Workbook Ever! book launch at Petaluma Copperfield's bookstore on Friday evening, May 15 at 7.
Please share this e-mail with your friends!
Thank you!
Arlene Miller, The Grammar Diva