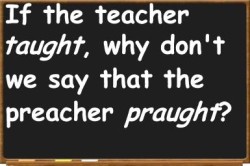 I think I have always spoken with pretty good grammar.  However, I do remember when I was a little kid, I thought the past tense of bring was brang, and the present perfect tense (past participle form) was have brung. My parents, who spoke fairly well, told me that it was brought and have brought.
I haven't heard too many people say brang and brung lately, but I do hear lots of mistakes in the past tense and past participle form (which is used for all the perfect tenses) of many verbs in people's speech. The past participle form is used for present perfect (I have brought), past perfect (I had brought) and future perfect (I will have brought). Oh, by the way, broughten isn't correct either — and I think I have heard that one.
Although there is no bring/brang/brung, there is a ring/rang/rung. Many people say have rang, but it is indeed have rung.
When I use the word swum, which I don't very often, people look at me as if I have made up a word. Yet swum is a word. I swim, I swam,  I have swum. Yup.
Oh, why can't all the verbs just add -ed for the past tense and part participle forms like walk and talk and all the other regular verbs? That would take some fun out of the English language!
Let's take took. Took is the past tense of take. The past participle form is have taken. It isn't have tooken, although I have heard people say it (I know I heard some of my students say it).
Here is a very common one: I have went. Nope. It is I have gone, but I went:  it is go/went/have gone.
I often get questions about hang. What is the past tense of hang? It is hung or hanged? It is both. When there is a noose involved, the past tense is hanged (and have hanged). Without a noose, it is hung (and have hung).
The correct forms of drink are drank and have drunk, not have drank. Shrink is the same. Shrink, shrank, and have shrunk. 
There are some other forms that are often misspoken: 
The past tense of freeze is froze, but it is have frozen, not have froze.
The past tense of write is wrote, but it is have written, not have wrote.
The past tense of begin is began, but it is have begun, not have began.
The past tense of run is ran, but it is have run, not have ran.
Thank goodness for those verbs that don't change at all, no matter what the tense! 
Cost doesn't change. There is no costed. It cost, it cost yesterday, and it has always cost.
Burst doesn't change either. There is no bursted. It burst, it burst yesterday, and it has always burst.
Set stays set too. I set it over there, I set it there yesterday, and I have always set it in the same place.
Sit changes to sat, but stays as have sat, not have sitten!
If I lend you something, I lent it to you yesterday, and I have always lent it to you. Not lended. (or even loaned, because loan is actually to be used only as a noun.)
You wake late, but yesterday you woke late, and all week you have woken late. And then, if you are dragging, you probably dragged yourself into work. You didn't drug yourself to work, and you have never drug yourself to work.
Oh, do I hear you begging to talk about lie and lay? Those crazy verbs!
Today I lie. Yesterday I lay. All week I have lain.
Today I lay my head down. Yesterday I laid my head down. All week I have laid my head down.
There are many, many irregular verbs in the English language. We haven't even made a dent! 
Please do take this post to all your friends . . . but do remember to bring it back . . . and remember . . .
If it ain't broke(n), don't fix it!