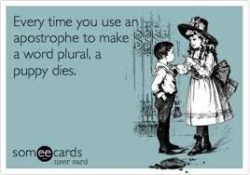 Last week's post talked about some issues with possessives. This related post talks about some common issues with our friend —  the apostrophe.
Contractions Versus Possessives
Two of the most common blunders we see are the your/you're and the its/it's confusion. I think much of the time the use of the incorrect choice is a typo. However, if it isn't, we can clear it up with a simple rule. These two words                are not exceptions.
Contractions: ALL contractions have apostrophes. That is the whole purpose of a contraction, or a shortened version of a couple of words. The apostrophe takes the place of the missing letter: I'm for I am, we're for we are, don't for do not. And yes, you're for you are and it's for it is.
Possessive Pronouns: Your and its are possessive pronouns, not contractions. And none of the possessive pronouns have apostrophes: ours, yours, hers, theirs, his. 
So . . . it's is a contraction and has an apostophe like all contractions. Its is possessive, and has no apostrophe, like all other possessive pronouns. Same for your and you're.
Plurals
Another issue with apostrophes is putting them in plurals. Now we know (don't we?) that we do not use an apostrophe to make a noun plural. Apostrophes in nouns make them possessive.  But questions often arise about using apostrophes with plurals of letters, numbers, symbols, and abbreviations.
Letters: You do not need to use an apostrophe with the plurals of uppercase letters except A, I, and U, which could be mistaken for As, Is, and Us: Bs, Ps and Zs are fine without apostrophes. The letter is italicized, but the s is not. For lowercase letters, it is often clearer to use an apostrophe: p's and q's.
Numbers: You do not need an apostrophe in plural numbers: 2s, 1900s, 60s. I would think you could use an apostrophe is a single number like 2, but you don't need to. 
Symbols: Once again, you don't need to use an apostrophe in a plural symbol: $s, &s. But you can if you want to.
Abbreviations: Abbreviations that are uppercase do not need apostrophes: ABCs, PTAs, YWCAs. 
---
Grammar Diva News
Having fun doing a couple of guest presentations for a business bootcamp for ages 14-27. These kids are great and know their grammar! Very important for entrepreneurs to know how to write!
Need a little grammar help now and then??? Know someone who does??? Maybe you just love grammar???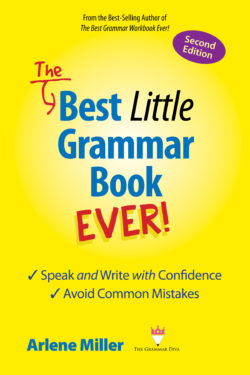 The new edition of The Best Little Grammar Book Ever! is now available on Amazon, Kindle, Nook, Kobo, Smashwords, and most other book and ebook retailers. You can order it from your local bookstore or perhaps find it  (soon) at Copperfields Books in Sonoma County, CA.
Reformatted
New information
Expanded section on commas
We always appreciate your reviews on Amazon (or wherever you get your books) for this book and any other of my books that you may have. Thank you!