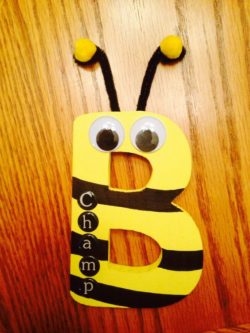 During last week's Scripps National Spelling Bee in Washington DC, the youngest participant ever, a six-year- old first grader from Texas, correctly spelled inviscate, but was tripped up by bacteriolytic, in which he substituted an a for the 0. Nonetheless, he received a standing ovation from the other contestants. And some first graders are just beginning to learn their letters!
To further illustrate the range of spelling prowess (and not), an article this week reported that these five words are most commonly misspelled by men in online dating profiles:
bachelor – It does kind of sound like there should be a t in there. And maybe -er at the end.
accommodate – This is a tough one for lots of people, but you just need to remember there are two c's, two m's and two o's.
dysfunction (spelled with dis-) – I have no idea why anyone would even put this word in a dating profile!
independent (spelled with -ant at the end)
misspell – Again, what is this word doing in a dating profile? Just remember, there are two s's, one for the prefix mis- and one for the word spell.
So what makes some people good spellers? A combination of things.
Spelling knowledge is stored in a part of the left brain called the orthographic long-term memory.
The ability to match sounds to letters, so that you might make a good try at spelling something, is done by yet another part of the left brain.
Regardless of which way you do it, you need to hold the letters in your mind, convert them into names, and produce them in the right order. That is orthographic working memory.
Serious, competitive spellers, like those in the spelling bee, practice a lot – several hours a day.
Serious, competitive spellers often have coaches.
Good spellers are generally good at patterns.
Good spellers probably read a lot.
Good spelling entails memorization as well. Knowing how sounds are spelled in various languages is a crucial part of the National Spelling Bee. Participants always ask the etymology of a word. If a word originates from the French, a long a sound is apt to be spelled et, as in ballet.
Getting back to this year's National Spelling Bee, for the third year in a row, the contest ended in a tie, producing co-champions. This year, the champs were thirteen and eleven, the eleven-year-old being the youngest winner in the competition's 91-year history.
The final words this year were Feldenkrais and gesellschaft, allowing the two boys to beat out almost 300 contestants.
It is apparent that the words get more difficult every year. In 1925, the first year of the bee, the winning word was the rather simple gladiolus. In the 1930s, winning words were as simple as knack, torsion, deteriorating, and sanitarium. In the 1940s spellers won with therapy, initials, and psychiatry . A cinch!
In the 1950s fairly simple words like vignette and condominium were joined by more obscure words like soubrette, crustaceology, and syllepsis. Some words of the 1960s were esquamulose, sycophant, and Chihuahua. Vouchsafe and narcolepsy were words received by some rather fortunate winners in the 1970s.  In the 1980s words ranged from the rather simple luge to the rather tricky elegiacal. The 1990s decade was full of interesting words including kamikaze, xanthosis, antediluvian, and chiaroscurist.
The 21st century words definitely stepped it up a bit. Here are some of the winning words: succedaneum, autochthonous, Ursprache, guerdon, feuilleton, and scherenschnitte.
Speaking of spelling: The AP (Associated Press) announced this week that internet and web would no longer be spelled with an initial capital letter –  due to the fact that the words are now commonplace. We don't know yet how the Chicago Manual of Style feels about it. My advice? Lowercase them.
Grammar Diva News
Available this week!
Kindle Version: Available June 4.
Paperback Version: Next week sometime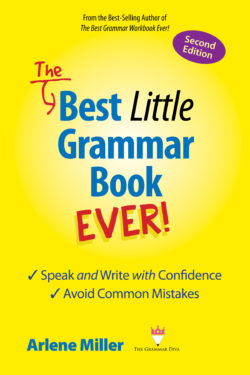 Amazon description: This is a new edition of this bestselling book. "The Best Little Grammar Book Ever" was originally published in 2010. Since then it has sold thousands of copies and received great reviews from its users, which include schools, colleges, and professional writers. The aim of the book was to solve those common grammar, punctuation, and word usage issues that stump us all. This second edition has been reformatted and updated with some new grammar standards and additional information, including an expanded section on comma use. The book also includes an introduction to basic grammar, lists of commonly misspelled and mispronounced words, a writing lesson, a final test, and a complete index. The first book in a series of three, "The Best Little Grammar Book Ever!" will be followed by "The Best Little Grammar Workbook Ever!" and "The Best Little Book of Confused Words and Phrases!"