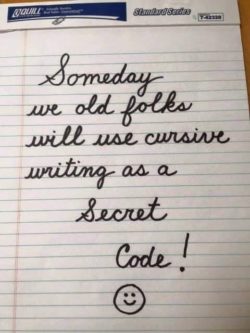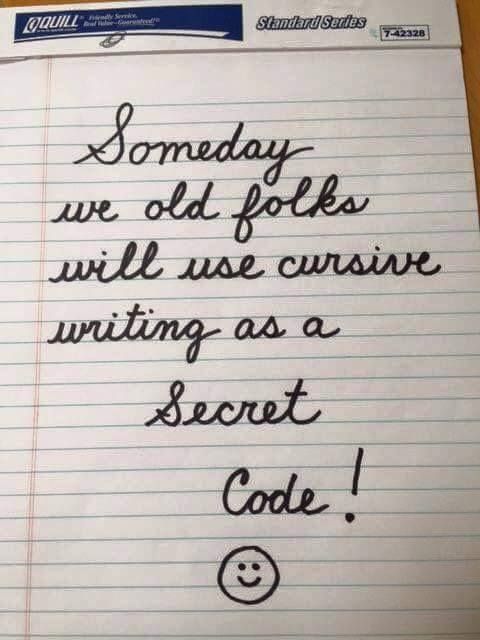 Cursive and the Educational Standards
If you haven't been in the field of education . . . there are educational standards—things that should be taught at the various grade levels. Currently, those standards are called Common Core, and they are national, although states have the right to not adopt them. Prior to that, states had their own standards. One thing is for certain: the standards change, or at least change in name every few years or so. I suspect it is because many people's jobs are at stake: those who develop the standards.
Common Core is silent on cursive, but it prioritizes computer use and keyboarding skills because its tests are taken on computers. However, even beginning in the 1990s, cursive writing got less and less instructional time. Currently, at least 41 states do not require public schools to teach cursive reading or writing.
Since 2010, 45 states have adopted the Common Core standards, which do not require cursive instruction but leave it up to the individual states and districts to decide whether they want to teach it. So what are the pros and cons of cursive?
Pros and Cons of  Teaching Cursive
The obvious "con" is that cursive is outdated. Computers have taken over, and most people use them to write. Otherwise, people can print. Who needs to learn cursive? It is not a "21st century skill."
Here are some of the pros:
Experts have said cursive training helps small children develop hand-eye coordination, fine motor skills, and other brain and memory functions. Such skills could be important for children who might become surgeons, painters, or other occupations requiring laser-like precision with their hands.
Some teachers say that students like cursive writing because it is artistic and restful to practice.
A second grade teacher said that for some students being able to write like grown-ups is a rite of passage. And, she adds, "It promotes perseverance."
Advocates for learning cursive  argue that "more areas of the human brain are engaged when children use cursive handwriting than when they keyboard."
An academic therapist said cursive writing helps students who have dyslexia. "Because all letters in cursive start on a base line, and because the pen moves fluidly from left to right, cursive is easier to learn for dyslexic students who have trouble forming words correctly."
Some experts say that nice handwriting can lead to better grades in school. An education professor at Florida International University recently conducted a study that found that children with neater handwriting developed better reading and math skills than their chicken-scratch peers.
According to a 2006 College Board report, SAT essays written in cursive received a slightly higher score than those with block print. But only 15 percent of the essays were written in cursive.
And what about the time when a keyboard is not available (is there ever such a time????)? It is faster to take notes in cursive than by printing letters. 
Some parents have been surprised at the lack of cursive training. Some are teaching it at home. Some schools are teaching it more as art than as a straight academic subject. So, in this case, cursive is a tradition, and, for some, a more personal way to communicate.
And then there are the arguments:
Cursive improves eye-hand coordination . . .But there are other ways to build good eye-hand coordination other than writing in cursive.
The Constitution is written in cursive . . . But you can certainly find printed versions of it to study!
You won't be able to read Grandma's letters . . . But Grandma's letters probably aren't even written in cursive any longer. She is probably using e-mail or Skype to communicate. (maybe)
An online poll by Harris Interactive showed 79 percent of adult respondents and 68 percent of kids ages 8-18 think cursive should still be taught. Nearly 49 percent of adults and 35 percent of youth say practicing reading and writing in cursive improves literacy. Okay, the survey was paid for by a pencil maker (really). 
When asked what they assume about people who can't read or write cursive, 30 percent of adults polled and 25 percent of children judged the person as less literate, and 7 percent of adults and 11 percent of children assumed they are "just not smart."
Kids gave a couple of good reasons why cursive is important:
"It's cool and fancy. It's faster because you write all the letters together."
"If you're going to be a famous soccer player, you need a signature for autographs."
A couple of problems arise with teaching cursive. (1) If people are not learning it, teachers will no longer be able to teach it. Already, newer teachers have less experience with cursive and teaching it. (2) With more and more to be taught, increasing technology, and more time taken for standardized testing, cursive is one of the easiest things to eliminate from the curriculum because it is deemed not necessary for today's world. (3) Cursive needs to be taught, but it also needs to be used and practiced lest it be forgotten. In some school districts, it is taught in third grade and never touched again.
What Are the States Doing About It?
Arkansas, California, Florida, Georgia, Idaho, Indiana, Kansas, Massachusetts, North Carolina, South Carolina, Tennessee, Utah, and Virginia are now trying to keep cursive in the curriculum. 
A few Washington, D.C. traditional public and charter schools offer cursive; most others don't. 
Bills have been  introduced in state legislatures in North and South Carolina, Indiana, and Idaho mandating cursive instruction. (In some cases, the bills were supported by companies that sell writing materials.)
Catholic schools, long known for emphasizing penmanship, are still teaching it, but are devoting less time to it.
The Virginia Department of Education mandates that third-graders should be able to read and write legibly in cursive. However, it is not always taught.
Georgia has laws mandating cursive instruction.
Responding to parent complaints, some states are revising the national standards and adopting their own rules. Arkansas lawmakers made cursive writing instruction mandatory in the state's public elementary schools beginning in the 2015-2016 school year.
Tennessee passed a similar bill last summer. The Florida Department of Education approved updates to Common Core last year, adding cursive writing as part of fourth- and fifth-grade standards.
What I Think
I was an English teacher in middle school until 2015. Cursive was on the way out, and my entire department was very pro-cursive. We could teach it, students could use it . . . however, we were no longer permitted to require it. 
Now I wonder about its actual value, apart from it being part of our writing tradition,an additional skill (it is faster than printing), and an art. I notice that many of the states (not California and Massachusetts) that are trying to bring back cursive are conservative states, states where traditional values are important. I don't fit in with these beliefs generally. I am all for progress. But maybe cursive isn't exactly the same as a progressive political agenda. I just somehow wonder when I see the states that are trying to keep cursive in the curriculum. Are they just trying to keep the "good ole days" around? I haven't come to a conclusion about that. But here is what I do believe:
Printing is the first type of writing children learn. It is important. Keyboarding is also important in this world: actually it is crucial. Cursive is good for brain development and coordination; it is also faster than printing and it looks lovely if done right.
Back when I went to school, we learned to print. Then, in second grade, we learned cursive, which we kept learning and using all the way through high school.  I never took typing in high school (I did teach myself), but lots of students did. So they learned all three modes of written communication. Why can't kids do that now? Too few days of school? Too much time taken up for disciplining unruly students? Too much time taken for standardized testing? Fundraisers? 
Someone has said, "In the 21st century, you teach kids to be multilingual by hand."  I agree.
Thank you to the following websites for helping me put this piece together.
http://www.usatoday.com/story/news/nation/2013/08/12/is-cursives-day-in-classroom-done/2642071
http://www.eonline.com/news/481596/cursive-handwriting-will-no-longer-be-taught-in-schools-because-it-s-a-big-old-waste-of-time
https://www.washingtonpost.com/local/education/cursive-handwriting-disappearing-from-public-schools/2013/04/04/215862e0-7d23-11e2-a044-676856536b40_story.html
http://www.today.com/parents/cursive-comeback-handwriting-lessons-return-some-schools-t41081
http://www.csmonitor.com/USA/Latest-News-Wires/2013/1114/Cursive-handwriting-Seven-states-fight-for-cursive-writing-in-school-video
---
Grammar Diva News
My newest book, The Best Little Grammar Workbook Ever! is now available on Amazon, all other online retailers, Kindle, and soon all other e-readers.
My next book, The Best Little Dictionary of Confused Words and Malapropisms, will be out within the next two or so months.
I will be participating in NaNoWriMo this November (National Novel Writing Month), writing a sequel to my first novel. Yup, I do have a novel for those of you who didn't know I tried writing fiction! I am going to change the title and author of my fiction book, getting rid of my pseudonym and making the book the first in a series. Here it is on Amazon. The new title will be Trashy Novel Book One: Four College Girls and a Purple Boa. The one I am about to begin will be the first sequel, Trashy Novel Book Two: Cybil. I have an undeveloped Facebook page for my novels,  and will probably develop a new website for novels. My pseudonym, JoJoBaker, will be changed to A. Miller.
As Grammar Diva, once again, I will be participating in the first annual  West Sonoma Book Faire at the Sebastopol Grange on Thursday, November 10, from 6 to 9 p.m. Free to the public.
I will also be participating in the  Writer's World Vendor Faire, sponsored by the Bay Area Independent Publishers Association at the Next Key Center in Novato on Saturday, November 12, from noon to 3 p.m. Free to the public.