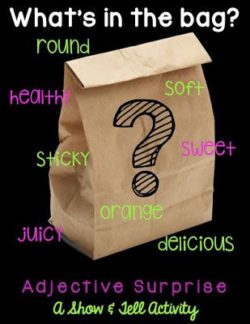 What???? There is actually grammar news? I think so. Someone (thank you, Murray) sent me a copy of a Tweet about adjectives. I found it interesting and thought perhaps I would take his advice and do a blog post about it. Then, I saw it popping up in other places on the internet. It is something that you know, but you don't know you know it.  And, actually, if English is not your native language, perhaps you don't take it for granted. What is this mysterious adjective thing?
Let's say we have a truck. Truck, being a thing, is a noun. Now, let's say it is a delivery truck. Hmmmm, I guess most, if not all, trucks are delivery trucks. That is the function of most trucks.  But bear with me.
Let's say this is a wooden truck (sounds more like a toy truck now, but let's keep going). So, now it is a wooden delivery truck. And let's say that this truck comes from Canada. It is now a Canadian wooden delivery truck.
The truck is red. It is a red Canadian wooden delivery truck. And let's say it is square (rather than maybe rectangular).  Now it is a square red Canadian wooden delivery truck.
You can tell by the fresh paint on the truck that this truck is quite new. In fact it is just a year old.  It is a year-old square, red Canadian wooden delivery truck. Since this truck is square and not rectangular, we might guess that for a truck, it is on the small side. So, it is a smallish year-old square red Canadian wooden delivery truck.
Because this truck is new and painted red, it's pretty shiny. It's a shiny smallish year-old square red Canadian wooden delivery truck!
Yes, I know that there should be some commas in that long series of adjectives that all describe that one noun, truck.  But since you probably wouldn't ever string that many adjectives together before a noun anyway, let's not worry about the commas right now. 
So . . . we have a red square shiny wooden Canadian smallish delivery year-old truck, right?
Or is it a Canadian shiny wooden red delivery smallish year-old square truck?
No. Wait . . . it's a delivery red smallish Canadian square year-old wooden shiny truck.
What's going on here? Okay. There is one order in which to write adjectives before a noun (and you don't have to have eight adjectives before the noun; you can have two or three or four). We don't even think about it; we just know it sounds right that way. These just sound wrong:
Green big ball (big green ball)
Pepperoni large pizza (large pepperoni pizza)
Wooden round table (round wooden table)
Pink beautiful dress (beautiful pink dress)
Here is the "rule" we follow without even thinking. Adjectives in English must be in this order (or, as the original Tweet said, you will sound like a maniac):
   opinion  – size  – age – shape – color – origin – material – purpose – noun
   shiny  – smallish – year-old – square – red – Canadian – wooden – delivery – truck
And now you know.
If you want to see the original tweet (and it looks like other interesting tweets, here is the link.
---
Grammar Diva News
This coming Sunday, September 11, I will be heading up the editing/proofreading table at the Redwood Writers roundtable. Here is the info.
I will be appearing at the Manteca BookFest on Saturday, October 8 and it's free!
The Writer's World Vendor Faire, sponsored by Bay Area Independent Publishers Association, takes place on November 12. I will be one of the vendors (editing), along with designers and a host of other vendors important to writers!
My new book, The Best Little Grammar Workbook Ever! will be available within the next few weeks. It can be used by itself or as a companion workbook to The Best Little Grammar Book Ever, Second Edition.