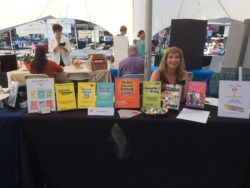 Books. Wonderful things, they are! Most people seem to like books. Some people are happy now that they can carry thousands of books around in a single electronic device – or even read on their phones (which isn't so bad at all – I have read books on my phone). Other people just like the feel and smell of a real book with pages that turn. Some people like to collect them and show them on walls full of shelves. 
Some people gravitate toward bestsellers. Others like classics, and others like collecting rare books and first editions. Books are great because there are books for every age and interest: how-to, history, science, mystery, thriller, romance, fantasy (and grammar, of course!) . . .
And now that publishing one's own book is easy, there are so many books and so many authors to choose from! Now, local, unknown, self-published authors put out fabulous books – just like more famous authors.
Although the number of  big New York publishers has dwindled, self-publishing (with the help of Amazon) is flourishing, so publishing has changed, but is still big business.
Book events of various types abound. There are big publishing shows like Book Expo in New York City, and the huge annual show in Frankfurt, Germany. These are trade shows for publishers (and authors), where it is expensive to set up a booth and expensive to attend. 
Then, we have writer's conferences, different from book trade shows. Every year San Francisco has a big one. Although there are some vendors (I was one once), writer's conferences generally invite authors of various genres – as well as people in various aspects of publishing – to speak. So these conferences are more about craft than a book expo, which is more of a publishing trade show.
Author events are popping up everywhere, mostly at bookstores, where both famous and not-so-well-known authors appear to sell and sign their books, and often to speak. Often these are book "launches," meaning the rollout of a new book. I have done several of these at my favorite local bookstore. Famous authors can draw hundreds of people, sometimes requiring a larger venue to be found by the bookstore. On the other hand, local and unknown authors can sometimes stand behind a table at a signing and – sit there alone. It has happened to lots of authors!
Another type of book event is the book festival or book fair. These are really like street fairs and are generally held outside – sometimes downtown somewhere, sometimes at a shopping mall. My home, Sonoma County, used to have one, but it has gone away; no one wanted to run it any longer. And authors often complained they didn't sell any, or many books, at this type of event.
I was invited to the Great Valley Bookfest in Manteca (CA) last weekend. Despite the two-hour drive each way, it was fun. It was well-run; there were lots of authors selling books, many of whom also made presentations; there was food; and it was held at a mall right next door to the Spirit of Halloween store.
There was plenty of foot traffic at the Bookfest. And it appeared that there were books being sold. I sold a decent number of books, although of course I wish I had sold a whole lot more! Who wants to carry the books back home again!
Who goes to an event like this? Well, it was a hot, sunny Saturday morning and afternoon, a good day to get out. Were people there because they wanted to go to a book festival or because they were going to the mall anyway – maybe to buy a Halloween costume? The event was well- enough publicized so that people heard about the festival, so I think many people were drawn to come out for the books. People like to look at books and chat with authors. Some even like to buy a book that is signed by the author. Then there were the used books for sale by the library – and free at the end of the day. 
But I always wonder: Sure, people might buy a fantasy book, or a kid's book, or a cookbook at a book festival. But who is going to buy a grammar book at a book festival? Many of the people who stopped by my table were teachers or ex-teachers, quite understandably. I don't know if this is true, but I think if people want a grammar book, they will buy it on Amazon where no one can see what they are buying.  Grammar books just don't seem like an exciting thing to buy at a book festival — where you are admitting perhaps that you need it. But maybe that is just my assumption – and possibly quite an incorrect one, since I think I sell pretty well at these things compared to other authors. And do people want to buy a book by an unknown author? Is it a gamble? The books by us "unknowns"  are no less expensive, nor should they be, unless they are of a lesser quality – which most of them are not. Yes, sometimes there are some name authors at these events, but mostly not. 
The most disappointing part of the day was my presentation. There were lots of 30-minute presentations, several going on at once. I thought a lot about what I would talk about. And then, no audience! OK, a couple of the festival volunteers managed to drag a couple of people over to hear me. Grammar is often not a real crowd attraction. If only they knew how funny and entertaining it can be . . .
So, I don't know who goes to book festivals. I would think it's a little bit of everyone: book lovers, book collectors, people who happen to be wherever it is being held anyway, people who like to stroll around street fairs, and parents looking for books for their children. 
In any case, I had fun and met some nice people.