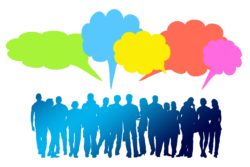 Welcome to the last installment (for a while) of your pet peeves and other "unusual" things people say . . . 
I am not sure if this was a pet peeve or just something someone noticed: Does everyone who is from The Bronx say "Da Bronx"?
The use of continue on instead of just plain continue was noted as a peeve. And it is redundant. Continue is enough, yes? We will continue (on) until we finish the project. On doesn't really add anything.
What's with the use of gifted me instead of simply gave me? In gifted me, gift is being used as a verb, rather than a noun. And it is fine; gift can be a verb. But it is more commonly a noun, so why not just use the more common verb give?
Someone mentioned the new use of the word curate. Curate has generally been used in the context of finding and putting together exhibits for art museums. It is now commonly used in the social media context of finding content to post and blog about.
Cliché is usually used as a noun: I have heard that cliché so many times! However, it can also be used as an adjective: Oh, that phrase has become so cliché!
A reader mentioned that there seems to be a regional distinction between using beat versus beat up. Beat is Midwestern and beat up is New York. I don't know anything about this. To me, they seem different: Our team beat the other team in basketball. He beat up his best friend.
In Minnesota, they say borrow when they mean loan. (I don't know, as I am not from Minnesota.) I am going to borrow this to you rather than I am going to loan this to you? I don't know about that, but let's talk about the difference between loan and lend — a difference that is going by the wayside like so many other language standards. Borrow would actually be confused with lend: borrow is a verb; lend is also a verb. Although many people use loan as a verb, it is actually the noun: I am going to lend this book to you. Consider this book a loan from me. I can let you borrow it for a month.
Here is an expression that is beginning to become more common, although I have heard it mostly in reference to dogs and other cute things: I am going to love on you. Since when did a prepositional phrase starting with on follow love when it is used as a verb?
Grammar Diva News
I was a guest on John Vonhof's blog, Writers and Authors on Fire, this past week. Here is the link if you would like to listen.
I will be selling my books, talking, and who-knows-what else at the Sonoma County Fair in Santa Rosa as part of the Redwood Writers. Tentatively, I will be there on Saturday, August 5; Friday, August 11; and Saturday, August 12 from 10:45 to 6:15. Lots of local writers will be there every day of the fair, so come on down!  We will be in the EC Kraft Building.
I had fun this past week talking with a group of future entrepreneurs (high school and college students) at the Sonoma County Office of Education. Thanks to my business coach, John Degaetano, for inviting me!