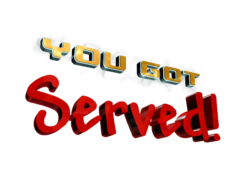 "Hello, Sir. May I help you?"
"Yes. I am looking for a pair of green socks."
"We don't got any of those."
"We don't got any of those"?????
You have probably heard such statements, and many of you have written to me about got and have. They are two separate verbs with two different meanings.
To have means "to possess." The present tense is have. The past tense is had. The past participle is have (or has) had.
I have a new blue dress.
I had a blue dress that I gave away.
I have had many dresses that I later gave away.
To get means "to obtain." If you say I don't got any, that is incorrect because you are using got in the present tense. The present tense is get. The past tense is got. The past participle is have (or has) gotten.
I am getting a new computer today.
I got a new computer last week.
I have gotten a new computer every three years.
Both have and got (not get) can be used as helping, or auxiliary verbs, so maybe that is where some of the confusion lies.
Have is used as a helping verb with the past participle form of a verb: have eaten, have gone, have walked, etc.
Got is used less often, and more informally, as a helping verb: I have got to clean up this mess (meaning must.)
Keep those pet peeves and other strange things you see and hear coming in!