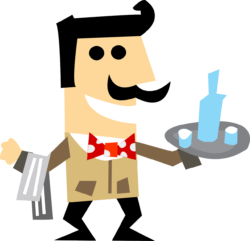 You probably make a distinction between the phrases "wait on" and "wait for." Usually, we think of "waiting on" as something to do with service: It took a while for the waiter to come over and wait on us. We waited for him for at least fifteen minutes. Yet sometimes this distinction is not made, and you might "wait on someone for fifteen minutes." One might assume at first that the phrase "wait on" when most of us would say "wait for" is British English; that is what we generally do when something is not common for us. However, "wait on" instead of "wait for" is not actually British English at all and is reported to have started in the South. As such, it is not considered incorrect, and the distinction between the two may be disintegrating ( as are many other standards – much to my chagrin).
Here are some other peeves and oddities you have written to me about (not including ending a sentence with a preposition, as I just did):
Hopefully – People commonly use hopefully to mean I hope, which is not exactly right. Hopefully is an adverb.
Hopefully, it doesn't rain tomorrow. What you really mean is I hope it doesn't rain tomorrow.
She looked hopefully at the blue sky and wished for another nice day tomorrow. Correct use as an adverb.
Try and – The phrase try and is often used instead of the correct phrase try to.
Please try to be on time tomorrow. (correct)
Please try and be on time tomorrow. (incorrect)
Axed – Often asked turns into axed. Seems to be regional or just the way some people say it. And it is a common peeve. Axed is also easier to say than asked.
Baby Mama – I tend to agree with the person who found this expression weird. Although it means the mother of someone's child, it doesn't really say that, does it? Do we used Baby Daddy? Yeah, I guess we do.
Since/Because – One reader wrote to me about the difference between since and because. Since is often used when some think because would be more appropriate. Since is a preposition indicating time. Because is a subordinating conjunction indicating effect. However, since is also a subordinating conjunction and can be, in that case, synonymous with  because.
I have been tired since last night. (preposition indicating time)
Because it is so late, I am not going out. (subordinating conjunction indicating cause/effect)
Since it is so late, I am not going out. (technically also correct, although you can use because, and many would prefer to keep that distinction between since and because.)
Supposably – Not a word. The correct word is supposedly, although supposably rolls off the tongue a little more easily.
Funnest – Oh, come on. Not a word. Yes, even television news people say it, but I am thinking they are "joking."  Something is more fun (not funner) or the most fun (funnest). Funner and funnest are not words. There are certain words whose comparatives and superlatives are not made by adding -er and -est, but by adding more and most before then. Take beautiful. You are more beautiful, not beautifuler. You are more correct, not correcter. 
Trite Words – Some people are bothered by trite words — those words that are overused and thrown into sentences to take the place of the former fillers like um and uh. One of the most popular is so, which can be used at the beginning or end of a sentence —  for no reason.
So, I think I will be going now.
I am leaving now, so . . .
Other trite and overused words include awesome, totally, and of course — like.
Oftentimes – Often (with a silent t please) will do just fine. Often means "many times," so oftentimes means "many times times." Redundant.
They/Their – Half of us have always used the singular they. The other half of us deplore it. I am waiting for the powers that be to come up with a singular gender-neutral pronoun. We have it, but we cannot use than one for people. I continue to use they as a singular only, and if it becomes too cumbersome to do so, I rewrite.
Either John or Andy will bring his guitar.
Either Judy or Alice will bring her guitar.
Either John or Alice will bring their guitar. (singular they)
Either John or Alice will bring his or her guitar. (blech)
Either John or Alice will bring a guitar. (simple avoidance)
Stay tuned next week as we tackle I and me (and the other pronouns) once and for all. (?)