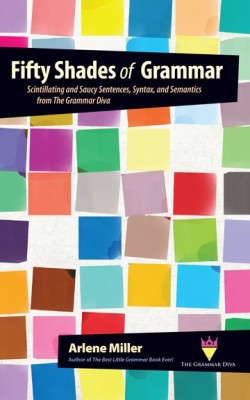 The Grammar Diva Blog began at the beginning of 2013 with weekly posts about grammar, punctuation, writing, and anything at all to do with words (and sometimes nothing at all to do with words). Many readers have enjoyed and commented on the posts, which are a combination of education, entertainment, and humor. 
Out of all the grammar books published by bigwords101 and penned by Arlene Miller, this one is the most perfect gift. It goes well with a comfy chair and a beverage of the reader's choice.
Fifty Shades of Grammar is divided into 8 main sections, each containing a different type of post:
Grammar Posts
Punctuation Posts
Posts About Words
Posts About Writing Style
Holiday Posts
Quiz Posts
A Potpourri of Posts (that didn't fit in any other section!)
The Fifty Shades of Grammar posts
Here are just a few of the posts you will read in Fifty Shades of Grammar:
Who and Whom Made Easy
Your Top Ten Grammar Peeves
Apostrophe Catastrophe
Five Tips for Great Writing
The Seven Deadly Sins of Writing
Some Real Grammar Turkeys: Happy Thanksgiving
The Grammarians' New Year Resolutions
The Alien in Your Future (my favorite post)
The Fifty Shades of Grammar series
Many readers have written such nice things about The Grammar Diva blog posts week after week:
I love reading your posts. You have a way of making something that could be very boring, so interesting. Keep up the good work. – Caroline G 
Arlene, you are so awesome. I can't wait to see what you do next week! – Leon H.
The Grammar Diva is quickly becoming my most valued blog to view. There's always a pearl of wisdom that triggers the thought, "Oh, yeah, now I remember."  – Kent S.