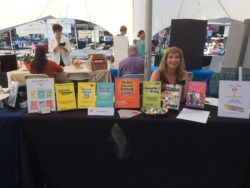 NEWS
Fifty Shades of Grammar, a compilation of 50 of the best Grammar Diva blog posts, just won a 2016 Best Book award from the Bay Area Independent Book Publishers Association (BAIPA)
My newest books are a revised edition of my first book and a new accompanying workbook, The Best Little Grammar Workbook Ever!  The new edition of The Best Little Grammar Book Ever!  has an updated cover, new format, and updated content.
Here is my  news release announcing the release of Fifty Shades of Grammar, 12-7-2015
Interview with Sharon Michaels on BlogTalk Radio A Novel Idea on KRCB Radio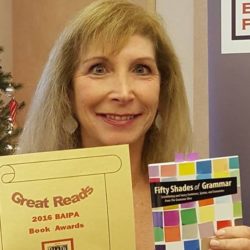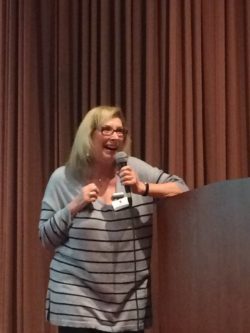 Upcoming Event:
Wednesday, March 8, 2017 – Featured speaker, Napa Valley Writers, a branch of California Writers Club.
Past Events
December 10, 2016 – Panelist and Book Award Winner, Bay Area Independent Book Publishers Association
November 10, 2016 – Invited Author, West Sonoma Book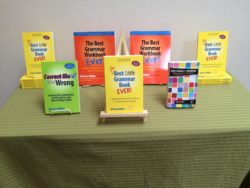 Faire
October 14, 2016 – Invited Author, Great Valley Book Festival, Manteca, CA 
September 11, 2:30 p.m. – Participant in Round Table Discussion (Editing Expert), Redwood Writers Meeting, Flamingo Hotel, Santa Rosa
August 6, 1 p.m. – Grammar Workshop for launch of The Best Little Grammar Book Ever, Second Edition, Copperfield's Books, Petaluma, CA
July 19, 7 p.m. – Reader, Hot August Nights, Redwood Writers, Copperfield's Books, Santa Rosa
April 2016 – Featured speaker, Business Boot Camp, SCOE Santa Rosa and College of Marin – private SBCB event
January 2016 – Featured Reader, Redwood Writers Open Mic, Gaia's Garden, Santa Rosa, CA
February 2016, 7 p.m. – Book Launch: Fifty Shades of Grammar, Copperfields Books, Petaluma, CA
 April 2016 – Featured Speaker, Redwood Writers meeting – Flamingo Hotel, Santa Rosa, CA
2015 – Featured Guest, A Novel Idea, KRCB Public Radio, Rohnert Park, CA
November 2015, Featured Guest, BlogTalk Radio with Sharon Michaels,
September 27, 2015 – Emcee, Redwood Writers Anthology Launch, Rohnert Park, CA
September 10, 2015 – Featured Speaker, Sausalito (CA) Rotary
August 13, 2015 – Featured Speaker, Cloverdale (CA) Rotary
July 12, 2015 – Writers Book Launch 
February 12, 2015 – Featured in Community Spotlight Article, Petaluma Argus Courier newspaper 
March 28, 2015 – Exhibitor and Speaker, Local Authors' Event,  Sonoma County Public Library, Santa Rosa 
May 2015 – Book launch, The Best Grammar Workbook Ever! Copperfields Books, Petaluma, CA
April 2015  – Featured speaker,  Senior Memoir Writing Class, Santa Rosa
July 2015 – Featured speaker, Mill Valley (CA) Rotary 
February 2015 – Featured speaker, Mill Valley Chamber of Commerce 
Fall 2014 – Best Little Grammar Class Ever, College of Marin 
October 20, 2014 – Featured speaker, Brown Bag Lunch Series, College of Marin, Court Reporting Program
 June 14, 2014  –  Vendor and guess author,  San Mateo (CA) County Fair 
March 3, 2014 –  Featured speaker, San Rafael Rotary 
February 12, 2014 – Featured speaker,  South Bay Writers (Branch of California Writers Club) 
January 25, 2014 – Featured speaker,  Guerneville (CA) Library 
December. 16, 2013 – Guest on KGO radio, San Francisco, Ronn Owen's Show . Listen Here
September 4, 2013 – Sonoma County Book Festival Discussion participant, KRCB Public Radio, Word by Word
September 2013 – Instructor, The Best Little Grammar Class Ever! – College of Marin
September 21. 2013 – Presenter, Redwood Writers Academy, Sonoma County Book Festival, Santa Rosa JC 
September 27, 2013 – BAIPA Representative, BooktoberFest, Mechanics Institute, San Francisco
June 9, 2013 – Featured in the Sonoma Living section of the Santa Rosa Press Democrat
February 9, 2013 – Featured speaker, Bay Area Independent Publishers Association
February 9, 2013 – Featured speaker, Bay Area Independent Publishers Association
February 15-17, 2013 – Exhibitor, San Francisco Book Festival, Mark Hopkins Hotel, San Francisco 
April 28, 2012 –  Presenter, Redwood Writers Conference Presenter
May 22, 2012 – Featured Reader at Wine and Dine with the Author, Redwood Cafe, Cotati, CA
September 8, 2012 – Book launch, Correct Me If I'm Wrong, Copperfield's Books, Petaluma, CA
September 22, 2012 – Exhibitor, Sonoma County Book Festival, Santa Rosa, CA
September 22, 2012 – Emcee, Sonoma County Book Festival Redwood Writers Reading Corner
 March 9, 2012 – Speaker, Sonoma County Library, Petaluma Branch
————————————————————————————————-
Here are some of the schools that are using my books:
Secondary Schools
Healdsburg Junior High School Healdsburg, California;
Family Life Center, Petaluma, California
Central Fellowship Christian Academy, Macon, Georgia
Colleges & Universities
Goucher College, Baltimore, Maryland
San Jose State University, San Jose, California
Mount Marty College, Yankton, South Dakota
Armstrong Atlantic State University, Savannah Georgia
Alverno College, Milwaukee, Wisconsin
Quinnipiac University, Hamden, Connecticut
University of California at Davis
Community College of Baltimore at Catonsville