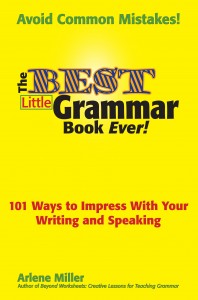 …just what you need to make you a better writer and speaker. Concise and easy to use, The Best Little Grammar Book Ever! has the answers to the most common problems and grammar issues that stump and confuse us.  It covers the basics such as parts of speech, parts of a sentence, punctuation, and capitalization. It goes on to solve all those common writing and grammar problems I have seen throughout my years as an editor and a teacher — and all in about 130 pages! The Best Little Grammar Book Ever! concludes with a writing lesson. A glossary of grammar terminology and a complete index make this The Best Little Grammar Book Ever! It is perfect for students, writers, job seekers, professionals, and anyone who wants to speak and write with more confidence. 
Join the schools who are now using The Best Little Grammar Book Ever!
San Jose State University, San Jose, California
Mount Marty College, Yankton, South Dakota
Armstrong Atlantic State University, Savannah Georgia
Alverno College, Milwaukee, Wisconsin
Quinnipiac University, Hamden, Connecticut
University of California at DavisC
Community College of Baltimore
Alief Early College High School, Houston
Walla Walla Community College, Washington
---
"Move Over, Strunk & White! Until now, Strunk & White's The Elements of Style held a secure place in my exclusive desk reference collection that I keep within arm's reach. I'm replacing it with The Best Little Grammar Book Ever! — J. Steve Miller, author of Sell More Books
"In preparation for a remedial community college English class I taught, I purchased 6 other grammar books to compare against one another (e.g., The Idiots Guide, Dummies, CliffNotes, etc). Hands down, The Best Little Grammar Book Ever! is the BEST. I even brought the other books to my class to show the students and they all voted for Ms. Miller's." – Babs Beach
"A fine tool and a top resource" — Midwest Book Review
"I have read a lot of grammar books, but this is the best one I've read!" –Tim Nonn, Ph.D., Petaluma Argus Courier
A user-friendly, practical, and immensely helpful book on grammar and usage. It should have a place on every writer's shelf. Highly-recommended. — Sheldon Siegel, New York Times bestselling author of Judgment Day
I purchased a couple of your little yellow book at the Santa Rosa book fair this fall and consider my copy my favorite desktop friend. I took it with me on a recent trip to Costa Rica. It was my favorite read. Thank you for writing a great little prize. — A happy customer     
Read More Reviews….
—————————————————————————–
Available on Kindle, Nook, Kobo, and most e-readers…..at Amazon, Barnes and Noble and other online retailers, and at Copperfields Books in Sonoma, Marin, and Napa counties (California).  
Available at a discount from Ingram for bulk orders for schools, colleges, and organizations. Please contact us with any questions.