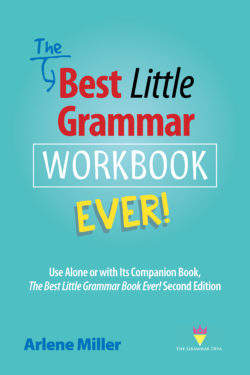 The Best Little Grammar Workbook Ever! will teach you everything you need to make your speaking and writing clear and effective.  The workbook can easily be used by itself; it can also be used with its companion book, the second edition of The Best Little Grammar Book Ever! Speak and Write with Confidence/Avoid Common Mistakes. While the workbook is full of practice exercises and quizzes, the companion book concentrates on explanations and examples.
The table of contents in both books is identical. Topics covered in this workbook include sentence structure, types of sentences, phrases and clauses, dead words, irregular verbs, tenses, punctuation, capitalization, commonly confused words, fragments and run-ons, possessives, who and whom, lay and lie, using numbers, parallel structure, series and lists, and much more. And of course there is a complete answer key in the appendix.
Reviews of The Best Little Grammar Workbook Ever!
"Arlene Miller, The Grammar Diva, is a master of the conversational approach to clarifying the sticking points of grammar and everyday usage, making her books enjoyable reads." Marilyn Skinner Lanier, author of Hardpan
"I love the ways this workbook is layered and organized, typical of all Miller's books. Though grammar books are inevitably complicated, this one is organized in multiple ways so that you can choose your favorite learning style. I especially like the little sections titled: 'Important Things to Remember from Chapter …' Here I could quickly determine what I would find useful in each chapter. And there are quizzes galore–who doesn't love a good quiz? Also, Miller's humor is a plus! I definitely recommend this workbook." Julie Henig, author
"Clear and effective. This truly IS the best little grammar book ever! I highly recommend this book to anyone who wants to improve grammar." Tracy, Amazon reviewer