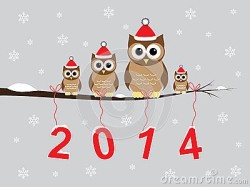 Happy New Year to all! Ready to start the diet? Or go to the gym more often? Ready to write that book? Be a more patient driver? Better mother? Harder worker? Got those resolutions forming in your mind? Or have you given up the idea of making the same resolutions every year? Well, I thought you might want to make some of the grammarians' resolutions for 2014….
1. I resolve never to correct anyone's grammar—even on Facebook—unless I am asked.  If they want to embarrass themselves, well, that is their business. 
2. I resolve to proofread all my e-mails and texts, and especially to watch out for autocorrect. Last week I texted a G, and it turned into God bless you.
3. I resolve to let no sentence be ended before its time—with either a period, semicolon, or colon—and therefore become a fragment; and to let no sentence continue past its natural life, thus becoming a run on.
4. I resolve to give up my fear of the semicolon. The semicolon is quite harmless and has only a couple of uses. I will not be afraid to use one between two related sentences. However, I will also not confuse the semicolon with its distant cousin, the colon.
5. I resolve to have tolerance for both grammar hawks and grammar doves—hawks insisting on every grammar rule, outdated or not, and doves ready to disregard any  rule in favor of a life of literary chaos. 
6. I resolve never to utter any of the following words or phrases: have went; me and him went; between you and I; irregardless; could of, should of, or would of; haven't hardly; I could care less; or he and myself.
7. I resolve that I will never put an apostrophe in a plain old plural unless not using the apostrophe would be confusing. This is very rare indeed.
8. I resolve not to misplace my modifiers, thus humiliating myself. While reading by the window, my dog did not jump into my lap because dogs usually don't read. While walking under the shelves , the box did not fall on my head, because boxes don't walk under shelves. While howling at the moon, a car did not stop to watch me because cars don't howl at the moon, although I may.
9. I resolve not to make up words or abuse real words by pronouncing  them incorrectly. These words do not exist: mischevious, nucular, jewlery, and realator.
10. I resolve to understand that good grammar improves my communication skills and the image I project to others. However, it isn't everything. And when I am thinking about my New Year resolutions,  I will remember that The Golden Rule trumps every grammar rule.
Happy  2014 from bigwords 101!