You all seem to like the Confusing Words series of blog posts, so here is number 3! Here are ten more words or word pairs that can be problematic.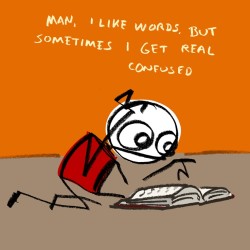 1. Continual/Continuous: These words have slightly different meanings. Continual means happening over and over again, usually in rapid succession. Continuous, however, means without stopping. Examples:
We have had continuous rain all day; it hasn't stopped for even a minute.
The continual snowstorms this year have made clearing all the snow really difficult.
2. Could of/Would of/Should of: You're right! These are wrong!  It is could have, would have, and should have! You can use could've, should've, and would've if you want, but I don't really like the contraction when the word being shortened is have. Obviously, woulda, shoulda, and coulda are unacceptable!
3. Criteria/Data: These two words don't have anything to do with one another except for the fact that they are actually plural forms. The singular form of criteria is criterion, and the singular form of data is actually datum.
When you are talking about one criterion, use the singular. If you are taking about more than one, use criteria. Sometimes, people will use criteria to mean just one.
Data,  however, is usually considered to be singular, and datum is rarely used at all.
Examples:
You need to meet one more criterion before you can be considered for the promotion.
These are the four criteria for getting into the advanced class.
The data is in, and it shows that our profit has increased this year. (You could say data are, but you probably wouldn't.)
4. Desert/Dessert: There are three of these to confuse. There is the sweet one, the dry one, and the lonely one. Here they are, used correctly:
I want chocolate cake for dessert.
It is too hot for me in the desert.
If you desert your fellow soldiers, you will be in big trouble. (Pronounced that same as the sweet one.)
5. Discrete/Discreet: Many of us don't even realize there are two different words here, and that they have completely different meanings.
Discreet is the one having to do with keeping a secret.
Discrete means separate.
I am telling you this secret because I know you will be discreet.
Please put these folders into three discrete piles by date of creation.
6. Disinterested/Uninterested:  If you don't like watching baseball or football, you are probably uninterested in sports (not interested). If you are judging a competition, we hope you are disinterested (impartial, having no interest in who wins.)
I am uninterested in reading about history.
We need a disinterested person to decide which team will go first.
7. Dived/Dove: These two words are both perfectly fine past tenses of the verb dive. Use whichever you wish, but be consistent in the same piece of writing.
He dove into the pool. He dived into the pool. You pick!
8. Duel/Dual: The ones with the guns or swords is called a duel. The one that simply means two is dual.
The cowboys decided who was boss with a duel.
This dual-purpose machine both grinds and brews the coffee.
9. e.g./i.e.:  These abbreviations come from Latin.
e.g. means exempli gratia, or for example.
i.e., means id est, or that is.
You can always forget about the abbreviation and just spell out that is or for example. Either way, use commas before and after the expression.
Long-haired dogs, e.g., poodles, don't shed or cause allergies. Long-haired dogs, for example, poodles, don't shed.
The shortest month of the year, i.e., February, has only 28 days. The shortest month of the year, that is, February has only 28 days.
10. etc.: This abbreviation means and the others, not to be confused with the two abbreviations in #9. It is usually used at the end of the sentence and is preceded by a comma.
Music genres include jazz, rock, pop, classical, country, rap, etc.
Stay tuned for more confused words in future posts!
Did you know you can get all five of The Grammar Diva's books as PDF downloads for only $20? Yup!