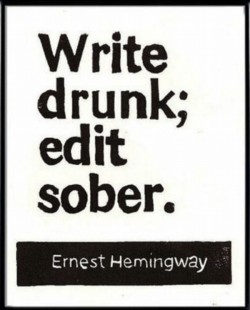 Carol Burnett has said: "Words, once they are printed, have a life of their own." 
In the words of Lily Tomlin, "Man invented language to satisfy his deep need to complain."
For a change of pace, I thought you might like to read some quotes about grammar, language, writing, and the English language. Some are thought provoking, others instructional, yet others humorous.
About Words – 
We have too many high sounding words, and too few actions that correspond with them. – Abigail Adams

He can compress the most words into the smallest ideas of any man I ever met. – Abraham Lincoln
A man thinks that by mouthing hard words he understands hard things. – Herman Melville
When ideas fail, words come in very handy. – Johann Wolfgang von Goethe
Words have a longer life than deeds. – Pindar
Drawing on my fine command of the English language, I said nothing. – Robert Benchley
About Writing – 
The best way to become acquainted  with a subject is to write a book about it. – Benjamin Disraeli
I have made this [letter] longer, because I have not had the time to make it shorter. – Blaise Pascal
Don't use words too big for the subject. Don't say 'infinitely' when you mean 'very'; otherwise you'll have no  word left when you want to talk about something really infinite. –  C.S. Lewis
 An author is a fool who, not content with boring those he lives with, insists on boring future generations. – Charles de Montesquieu
 Better to write for yourself and have no public, than to write for the public and have no self. – Cyril Connolly
Writing gives you the illusion of control, and then you realize it's just an illusion, that people are going to bring their own stuff into it. – David Sedaris  (interview in Louisville Courier-Journal, June 5, 2005) 

A classic is classic not because it confirms to certain structural rules, or fits certain definitions (of which its author had quite probably never heard). It is classic because of a certain eternal and irrepressible freshness. – Edith Wharton
The skill of writing is to create a context in which other people can think. – Edwin Schlossberg
A scrupulous writer, in every sentence that he writes, will ask himself at least four questions, thus: 1. What am I trying to say? 2. What words will express it? 3. What image or idiom will make it clearer? 4. Is this image fresh enough to have an effect? –
George Orwell  (
"Politics and the English Language")
The cure for writer's cramp is writer's block. – Inigo DeLeon
About the English Language – 
Even if you do learn how to speak correct English, whom are you going to speak it to? – Clarence Darrow
The English language was carefully, carefully cobbled together by three blind dudes and a German dictionary. – Dave Kellett
About Grammar –
My spelling is Wobbly. It's good spelling but it Wobbles, and the letters get in the wrong places. – A. A. Milne
When I split an infinitive, god damn it, I split it so it stays split. – Raymond Chandler
 Nostalgia is like a grammar lesson: you find the present tense, but the past perfect! – Owens Lee Pomeroy
Man 1: Where are you from?
Man 2: From a place where we do not end sentences with prepositions.
Man 1: Okay, where are you from, jackass?
-Author unknown
Do not be surprised when those who ignore the rules of grammar also ignore the law. After all, the law is just so much grammar. – Robert Brault
And my favorite……
Only in grammar can you be more than perfect. – William Safire
I would like to give credit to the following websites for these quotes. Please check them out if you need a quote on any topic!
and other online retailers. Contact us for bulk sales.