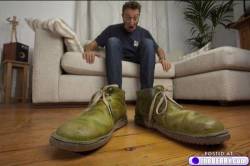 There are worse things in the world than being sciapodous! If you don't know what that means (and who does?), check out the illustration that goes with today's post!
For other weird and wonderful words, look back at Part 1, Part 2, Part 3, Part 4, and Part 5. Today, you can increase your vocabulary with words no one else knows that begin with R and S.
Rackensak – Who knew that a rackensak is a native of Arkansas? I didn't!
Rackrent – Excessive rent (There's one you can use!)
Ranivorous – Eating frogs. Do frogs' legs count?
Rannygazoo – Foolish nonsense
Rarissima – Extremely rare books
Rastaquouere – A social climber (Nope. Don't know how to pronounce it!)
Rhyparographer – An artist whose subject matter  is sorrowful or unpleasant topics
Ridibund – Easily moved  to laughter
Ridgeling – A half-castrated animal (Now, who would do that?)
Rinkomania – An obsession with skating. There's one I could have used! (My daughter is a professional skater -ice)
Riqq – Middle Eastern tambourine (A good Scrabble word?)
Riziform – Shaped like a grain of rice
Rurigenous – Living or born in the country
Ruth – Pity, remorse, or sorrow
Sabaism – Worshipping the stars
Saltarello – A lively Italian dance
Sandapile – A coffin
Sanguinolency – Being addicted to bloodshed (Some of those in the news lately)
Satisdiction – Saying enough! (Some of those in the news too!)
Scacchic – Having to do with Chess
Se– Twenty-five stringed Chinese zither (Scrabble word?)
Semiopathy – The tendency to read humorously inappropriate meanings into signs.
 (For example, throwing water on a sign that says Wet Paint)
Sinology – The study of China
Sitiophobia – Fear of food (new diet?)
Sitooterie – A summerhouse or gazebo; or an out-of-the-way corner to sit with your partner during a dance
Slangrel – A long, lean thing or person
Spiv – A petty criminal with no employment
Squintifego – A person who squints a lot
Stereochromy – A colorful wall painting
So take out the se and riqq, do a saltarello, and when you get tired, go to your sitooterie!
Have a great week, and stay tuned for more weird and wonderful words!