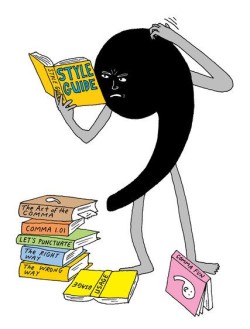 I am a member of some grammar groups on LinkedIn, where there are some fascinating — and long — discussions of  what some people would call grammatical minutiae. However, this week, I saw a discussion that I found a little surprising. The question posed was "Should we continue to teach who and whom to our students?" Obviously, this meant should we continue to teach the difference between them and when to use each.
In last week's post I talked about the difference between linguistic and grammatical prescriptivism and descriptivism.
Prescriptivists (the camp that I lean toward) think that the rules are there and they should be followed.
Descriptivists believe that language evolves as new usages come into play.
Well, if we followed a purely prescriptivist viewpoint, we would still be using the language of centuries ago — thank you, Chaucer.
But what would happen if we followed a purely descriptivist viewpoint? How does language change, anyway?
Let's look at an example: I have always used the idiomatic prepositional phrase by accident. The younger generation seems to be using on accident instead. Is it wrong? Which is right? Should we adopt what the younger generation is now using? Is there a reason that by should be used rather than on? Why did anyone start saying it that way  in the first place? Is it because we say its opposite as on purpose?
I don't know the answer to any of those questions. And to me, something like who and whom is a little different, anyway. People use who and whom — or should I say, people tend to avoid using whom at all — incorrectly because they don't know or understand the rule. Should we say, "Oh, let's just forget trying. It's just too difficult to teach or understand"? Should we dumb down the language?
Taking who and whom specifically — since I have heard more than once that people would like to do away with the distinction — there is a reason that who is correct sometimes and whom is correct other times. And most people studying a foreign language will run across the same thing in that language. Who and whom are different pronoun cases. Latin has five cases. German, I think, has seven or eight. English has three….and we can't even figure that out?
The distinction between who and whom is the same as the distinction between I and me. So, are we now going to say that "Me and him went to the movies" is okay too? Many people say it that way, so will that become the standard now too?
Then, there is the issue of conversation versus formal writing. Let's say you are writing a cover letter, or maybe a college entrance essay. Are you going to distinguish between who and whom? All the grammar books I know of make that distinction, at least as of now. I would recommend that anyone writing anything formal use the rules until they are "formally" changed.
The evolution of language is nothing new. And I won't pretend to know much about it. I am not a linguist, although I wish I were, and I find the subject fascinating.  I do know that there needs to be a mix of descriptivism and prescriptivism, as there always has been; otherwise, the language would never have changed throughout the centuries. But where do we draw the line?
But who and whom? That's where I draw the line!
By the way, here is the difference between who and whom:
There are three cases for pronouns in the English language: Nominative, Objective, and Possessive.
The nominative case is used for subjects of sentences (and predicate nominatives, but we won't go there today).
The objective case is used for direct objects, indirect objects, and objects of prepositions, the three types of objects.
The possessive case is used for ownership.
Let's take the pronoun I: nominative is I; objective is me; possessive is my or mine.
I am going to the movies.
He took me to the movies.
He is mine.
Now let's take the pronoun who: nominative is who; objective is whom; possessive is whose.
Who is going to the movies? (Who is the subject of the verb is going.)
Whom did you invite to the movies? (Whom is the direct object of the verb invite.)
To whom did you give the movie tickets? (Whom is the object of the preposition to.)
Whose tickets are they, anyway?
One thing is for sure. I will be teaching my students the difference between who and whom!
Yikes! School starts really soon! Where did the summer go? Do you know
anyone who might need a really friendly and easy-to-use grammar book?