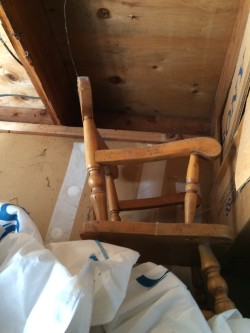 Most of us have memories about our fathers. Unfortunately, I personally don't have many good ones. But my maternal grandfather and I were very close. Way up on a shelf in my garage is a very old little rocking chair he gave me for my second or third birthday. I have always treasured it. It has a picture of Rudolph the Red-nosed Reindeer painted on it. It needs a little reconditioning (maybe a lot), but someday I will pass it on to my grandchildren — when I get one or two!
Father
Origin: From the Middle English fader, Old English fæder;  Latin pater, Greek patḗr, Sanskrit pita, Old Irish athir 
Words from the Latin root pater:
paternal – fatherly
paternity- state of being a father
patron 
patriarch – male head of a family or government
patriarchy – government lead by a male
patricide – killing of one's father
patriot
patriotic
Other words people use for father: dad, daddy, father, pop, pops, papa, poppa, poppy, pappy
Phrases about fathers: 
Our Father
Father time
Like father, like son
Daddy's little girl
The sins of the father…
Wait til your father gets home!
You're just like your father
Daddy Warbucks
Father figure
Some famous TV shows:
Father Knows Best
Make Room for Daddy 
The Courtship of Eddie's Father
Bachelor Father 
Life with Father 
Some Famous Songs: 
Papa Was A Rolling Stone – Temptations
Papa's Got A Brand New Bag – James Brown
 Papa Don't Preach – Madonna
Daddy Sang Bass – Johnny Cash
 Color Him Father – Winstons
 Hello Muddah Hello Faddah – Allen Sherman
Papa, Can You Hear Me – Barbra Streisand
(Down At) Papa Joe's – Dixiebelles
My Dad – Paul Petersen
And finally some quotes about fathers and fatherhood:
A truly rich man is one whose children run into his arms when his hands are empty. ~Author Unknown
A father carries pictures where his money used to be. ~Author Unknown
Any man can be a father. It takes someone special to be a dad. ~Author Unknown
My daddy, he was somewhere between God and John Wayne. ~Hank Williams, Jr.
Being a great father is like shaving. No matter how good you shaved today, you have to do it again tomorrow. ~Reed Markham
My mother protected me from the world and my father threatened me with it. ~Quentin Crisp
My father used to play with my brother and me in the yard. Mother would come out and say, "You're tearing up the grass." "We're not raising grass," Dad would reply. "We're raising boys." ~Harmon Killebrew
It is not flesh and blood but the heart which makes us fathers and sons. ~Johann Schiller
Dad, you're someone to look up to no matter how tall I've grown. ~Author Unknown
Making the decision to have a child is momentous. It is to decide forever to have your heart go walking around outside your body. ~Elizabeth Stone
Quotes from The Quote Garden
Happy Father's Day from The Grammar Diva!