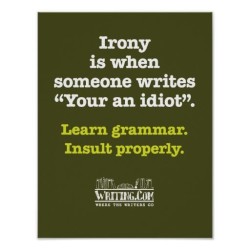 As a grammar person, grammar teacher, grammar author, grammar blogger, grammar hawk, Grammar Diva, grammar prescriptivist — whatever you or I wish to call me — I obviously have a great deal of grammar pet peeves, and they change according to whatever grammar faux pas seems to be in vogue at a certain time. Right now, here are three I am grappling with!
#1 Peeve: The fact that radio personalities and their guests; respected TV news anchors; and well-regarded newspapers can't get their grammar right — and don't seem to care —  is my number one pet peeve this week! The problem is rampant. Yes, of course I care because grammar is my livelihood (and without its proper use, I have no livelihood), but I also think that these people, above all, should be able to speak their own language correctly! Is it so difficult to say, "When I was a kid, my mom and I .."? So why did I hear instead on CNN, "When I was a kid, me and my mom . . ."?
I would fire them all if I could! They get paid enough to speak correctly. Aren't they getting paid to speak? Must they sound like morons? Do they think it's cool to sound stupid?
#2 Peeve. The improper use of myself. I am getting tired of hearing this one. People obviously think it is high-class to use myself as much as possible — either that, or they don't know whether to use I or me, so myself seems like a good solution. Wrong.
1. My colleague and myself are doing a presentation tomorrow. Wrong.
2. The important assignment was given to my colleague Bill and myself. Wrong.
3. I hope you join bestselling author Joe Schmoe and myself for this important interview. Wrong.
Try taking out the other person.Does myself make any sense at all?
1. Myself is going a presentation tomorrow? No.
2. The important assignment was given to myself ? No.
3. I hope you join myself for this important interview? No.
The rule is simple: Myself is never the subject of a sentence, and it can't be used at all unless the subject of the sentence is I.
#3 Peeve. The whole pronoun situation: I and me, him and her, he and she, they and them, we and us. I would add who and whom, but let's not get carried away with our expectations!
It isn't rocket science. It isn't difficult. The same people saying, "When I was a kid me and my mom would  .  . ." would never say, "When I was a kid me would . . . " So, I am not quite sure why it becomes so difficult when the other person is added. That's why I think these people, who should know better, just think it is cool to sound like a 7th grader.  Likewise, he didn't give it to Bob and I because he wouldn't have given it to I. We all know the trick of just taking the other person out to see which pronoun fits.
Grammar-wise, here is the rule: Certain forms of pronouns are used for subjects. Subjects do the verb or action in the sentence and are generally at the beginning of the sentence  — and before the verb. These pronouns are I, we, he, she, they, and who.
Other pronouns receive the action of the verb, either directly or indirectly, or come after prepositions. They are called objects. These pronouns are me, us, him, her, them, and whom. For example:
He kicked me. (Direct object of the verb kicked.)
He gave me a kick. (Indirect object of the verb gave.)
He gave a kick to me. (Object of the preposition to.)
Now I know you all have grammar peeves of your own, and I would love to know what they are, so I can write a blog post about them. You can comment, but better yet, e-mail your grammar pet peeves to me.
Maybe it is actually rocket science. . .In that case, I am raising my prices!