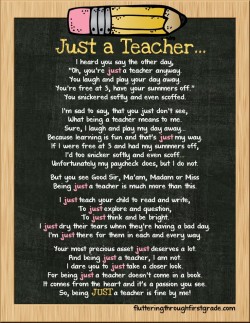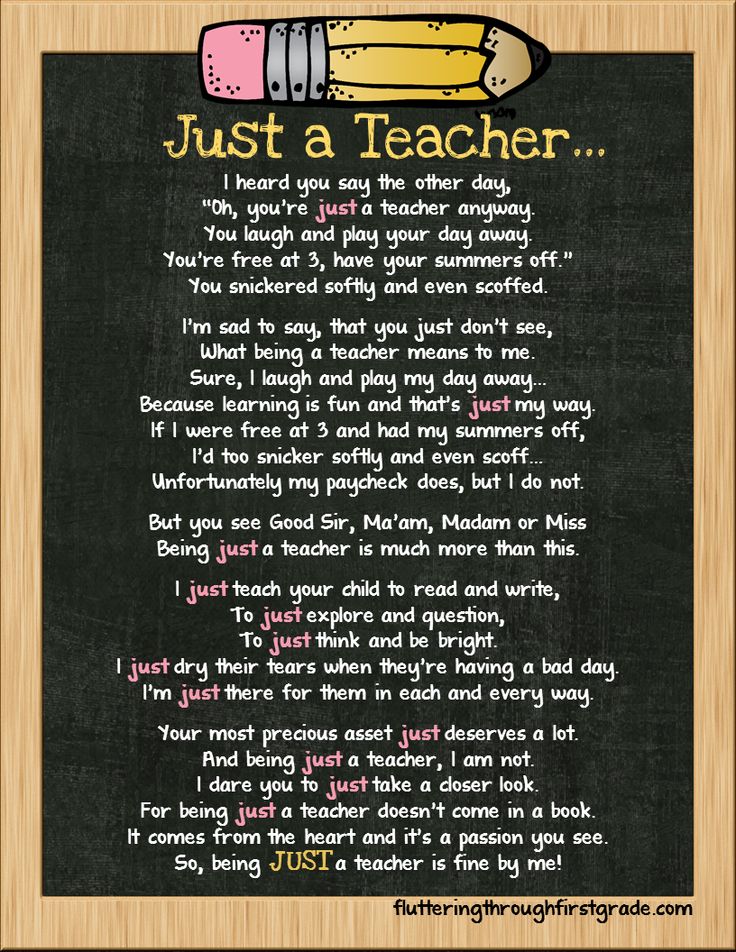 I was planning to begin the series on The Seven Deadly Sins of Grammar today, but in a week that included Good Friday, Easter, and Passover —  well, it just didn't seem appropriate somehow. So, I will wait to start that one next week!
As you may or may not know, I have been a public school teacher (7th grade English) for the past eleven years. It was by no means a first career for me, having previously been a newspaper reporter, technical writer, technical editor, freelance editor, editing supervisor, newspaper UPI editor, tap dance instructor, medical transcriber, aerobics instructor, and stay-at-home mom, not necessarily in that order! I am retiring from public school teaching this June to devote more time to my grammar business. Teaching is the hardest job I have ever done. Combine that with the low pay, long hours, meetings, new standards, new technology, parents, administrators: I think teachers are truly heroes. 
Here, for your amusement, consideration, and deep thought are some quotes on teachers and teaching:
I never teach my pupils. I only attempt to provide the conditions in which they can learn. – Albert Einstein
The true teacher defends his pupils against his own personal influence. – Amos Bronson Alcott
For every person who wants to teach, there are approximately thirty people who don't want to learn — much. -W.C. Sellar and R. J. Yeatman
A good teacher, like a good entertainer, first must hold his audience's attention, then he can teach his lesson. – John Henrik Clarke
A teacher affects eternity; he can never tell where his influence stops. – Henry Adams
Teaching is the only major occupation for which we have not yet developed tools that make an average person capable of competence and performance. In teaching we rely on the 'naturals,' the ones who somehow know how to teach. – Peter Drucker
Teachers open the door. You enter by yourself. – Chinese Proverb
Teaching is not a lost art, but regard for teaching is a lost tradition. – Jacques Barzun
A professor is someone who talks in someone else's sleep. – W. H. Auden
A good teacher can inspire hope, ignite the imagination, and instill a love for learning. -Brad Henry
Good teaching is one-fourth preparation and three-fourths theater. – Gail Godwin
I have learned silence from the talkative, toleration from the intolerant, and kindness from the unkind; yet, strange, I am ungrateful to those teachers. – Khalil Gibran
None of us got where we are solely by pulling ourselves up by our bootstraps. We got here because somebody — a parent, a teacher, an Ivy League crony or a few nuns — bent down and helped us pick up our boots. – Thurgood Marshall
Experience is a good teacher, but she sends in terrific bills. – Minna Antrim
I have come to believe that a great teacher is a great artist and that there are as few as there are any other great artists. Teaching might even be the greatest of the arts since the medium is the human mind and spirit. – John Steinbeck
I am walking with two other men, each of them will serve as my teacher. I will pick out the good points of the one and imitate them, and the bad points of the other and correct them in myself.  – Confucius
I think the teaching profession contributes more to the future of our society than any other single profession. – John Wooden
* Any incorrect grammar, punctuation,  and sexist writing in these quotes is not my own. I didn't fix them because I wanted to use the quotes as I found them. Thank you to the quotations page.com and quote garden.com for the quotes!