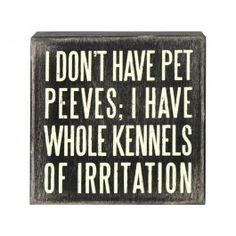 In last week's post I talked about my top three grammar peeves. This week I don't even remember what they were, but now I sure know what yours are! I asked in my post for you to let me know about your grammar peeves . . . .
The floodgates opened, especially from the LinkedIn groups I share my posts with who are particularly interested in the English language  —  namely, those who teach it to either native speakers or English language learners.
The part about the pet peeves was fine. But then, as would happen, the verbal weapons began to emerge as the descriptivists and prescriptivists said their respective piece(s). I have talked about these two terms before, but let me review . . . .
Prescriptivists believe that there are grammar, punctuation, and usage rules that should be followed.  I stand mostly with this group.
Descriptivists believe that the way people really use the language helps it to evolve, and they do not like the word rule at all. They prefer standard conventions.
Honestly, I think that both beliefs must coexist, and that language really is a combination of both. There are rules, many of them from Latin . . . . and someone didn't just make them up recently. No, they are not written in stone like the laws of physics or the multiplication tables, but they still exist in all the grammar and style books that are around.
Yes, of course, there are also regional dialects, colloquial language, and spoken language that often differs from formal writing. And, yes, language does evolve. But should we get rid of the difference between who and whom because people can't figure it out? I don't think so; and many people can figure it out. Should we say "Me and him have went to the movies," just because many people say it that way? I don't think so.
Talk any way you want to your friends. But if you are making an important speech to the faculty at Harvard Medical School, or you are writing an essay to get into college, or a resume, or a cover letter, I think it is better to stick closely to the "rules."
That said, I have pages of your grammar peeves. Many of them were expected; however, there were many quite unusual ones, which I will get to in future blog posts (yup, you will have to keep reading . . . .)
Here are the ten that seemed to be the most popular:
1. Misplaced apostrophes. This one includes its and it's and your and you're, the two most popular peeves. People mentioned seeing things like "your cute" on Facebook, and I must agree. I rarely see you're on Facebook! Is it that much trouble to put in an apostrophe? It's and its are pretty easy to remember: All contractions (two words shortened into one) have apostrophes (I'm, don't, we'll), but possessive pronouns never do (yours, ours, his). One person said, "You wouldn't write hi's, so don't write it's!" Someone else remarked about a lawyer who writes a column for him using its' as a possessive . . . . this one is not a word at all, but I have seen it being used lately.
2. Well, this one isn't a surprise. The confusion between subject and object pronouns:
Between you and I. He gave it to him and I. NO-NO-NO-NO-NO-NO-NO!
It is between you and me. He gave it to him and me. Just like "he gave it to me."
One of the people who responded said she heard between you and I on a television program said by lawyers who are supposed to have gone to Harvard. Another said a student of hers said that since she heard between you and I on television that it was right. The teacher told her that if she wrote it on her paper, she would flunk.
3. Less and fewer was a popular peeve. Use fewer for items you can count: Ten items or fewer. (This cookie has less sugar.)
Someone who wrote to me said a Columbia University professor on CNN said, ". . . .less arrests and less incarcerations." She added, "My husband had to pull me from the ceiling!" I got a good chuckle out of picturing that one!
4. I could care less. Well, if you could care less, then you do care, so why are you even saying it? It should be I couldn't care less.
5. Using a pronoun after a noun: Mr. Jones he is going. The teachers they are talking. The authors they are writing.  You get the picture. You don't use both the noun and the pronoun.
6. Confusing that and who. Who is used for people. That is generally used for things.
The boy that made the basket was the MVP. It should be who made the basket. (By the way, animals are considered that, even though we all want to call them who.)
7. Should of and could of and would of. This is still pretty common error — actually very common. It is have, not of.
You should have told me,  not should of.
8. Where are you at? I am told this is more of a Midwestern thing. Although it is pretty much okay to end a sentence with a preposition these days, it is not okay to end a sentence with the preposition at. Where are you is good enough.
9. These ones instead of these. This one sounds like something kids tend to say. And . . . . why is this one okay, but  these ones not okay?
10. This one is surprising, but more than one person mentioned it: The use of be.
It bes really good.
These cupcakes be like the bomb!
Certainly, this use of be is more common in those whose native language is not English and in some dialects. The odd thing is that it is actually an almost-correct use of the subjunctive, which hardly anyone uses correctly! The subjunctive is used for things that you wish were true but aren't, or for demands:
I wish I were rich. . . . not I wish I was rich. That is the subjective.
She demanded that I be there for the meeting.. . . .not that I am there. That is also the subjunctive.
So, I be there is unusual , but He asked that I be there is correct!
So there you have it! Your top ten grammar peeves. Oh, but there are a whole lot more . . . . so stay tuned and read next week's blog post!