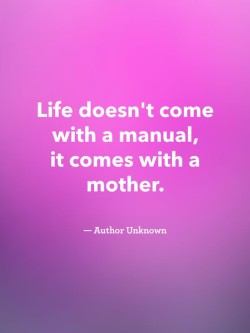 It is time again for the annual Mother's Day post. This year I thought I would try something different. Many, many songs have been written about mothers and with mother in the title. I have attempted (hear that? attempted!) to write a story of sorts with some of these titles included. Song titles are in boldface and the recording artist is in italics and parentheses. Enjoy!
Dear John:
I should have listened to Dear Mama (2pac). Mama Said (Shirelles) I shouldn't go out with you. Mama Tried (Merle Haggard) to tell me you were a player.  Mama Told Me Not to Come (Three Dog Night) out of my room the first time you came to pick me up. Mama Don't Allow (Hank Thompson) me to go out with men who have reputations like yours. Even My Mammy's (Al Jolson) Mother-In-Law (Ernie K-Doe) said you were trouble. Tell Mama (Etta James) you didn't mean to hurt me. I am my Mother's Pride (George Michael) and joy! I'll Always Love My Mama (Intruders). When I first met you, I said, "Mama He's Crazy (Judds)," but then I changed my mind and  now I feel bad about Mama's Broken Heart (Miranda Lambert).  Mama Didn't Lie (Jan Bradley) when she told me I was right in the first place!
I have always been Mother's Little Helper (Rolling Stones) and now my Little Mama (Clovers) is crying!  Hey, Ma (Cam'ron), you used to be such a Pistol Packin' Mama (Al Dexter) but now She's a Bad Mama Jama (Carl Carlton). I can see the disappointment in My Mother's Eyes (George Jessel). Mama You've Been on My Mind (Bob Dylan), I think to myself all the time, and Your Mother Should Know (Beatles) how I have let My Yiddish Momme (Sophie Tucker) down. 
I Had a Good Father and Mother (Washington Phillips).  Papa Loved Mama (Garth Brooks) before he died. He always said, "Mamma Talk to Your Daughter (JB Lenoir) about that dude she's dating. Mama Said Knock You Out (LL Cool J), but did I listen? No. Mama Weer All Crazee Now (Slade). 
I hope Mama (Spice Girls)  forgives me for hurting her and that we can have a Mother and Child Reunion (Paul Simon). I hope I can cure her Pretty Mama Blues (Ivory Joe Hunter). I always knew Mama Can't Buy You Love (Elton John). 
And you, John, Have You Seen Your Mother Standing In The Shadows (Rolling Stones) ashamed of your behavior? And as a result of her disappointment in me, I Saw Mommy Kissing Santa Claus (Jimmy Boyd)! When You're Good to Mama (Mary McCarty) she doesn't have to resort to such things.
Mama Used to Say (Junior) Mammas Don't Let Your Babies Grow Up To Be Cowboys (Waylon & Willie). I fear I have grown up to be something worse.  Look Mama (Howard Jones), I am so sorry. I Wanna Be Mama'd (Jimmy Logsdon) again….. Hey, Lawdy, Mama (Steppenwolf), I am sorry for what I put you through. 
Love, 
Your Daughter
————————–
Many artists did songs simply called Mama, or something similar:
Mother (John Lennon)
Mother (Danzig)
Motorcycle Mama (Steppenwolf)
Crazy Mama (JJ Cale)
Mama (BJ Thomas)
Mother Freedom (Bread)
Future Baby Mama (Prince)
Lollipop Mama (Wynonie Harris)
Hey Mama (Kanye West)
Say Mama (Gene Vincent)
Welfare Mothers (Neil Young)
Mother (Police)
TV Mama (Big Joe Turner)
Mamma Mia (Abba)
Mother (Pink Floyd)
Mama (Spice Girls)
Mama (Connie Francis)
Mama Kin (Aerosmith)
Mother Mother (Tracy Bonham)
Sexy Mama (Moments)
Mother Popcorn (James Brown)
Fujiyama Mama (Wanda Jackson)
Mama (Genesis)
Happy Mothers Day from The Grammar Diva to You!