The possessive. Simple. You add an apostrophe and an s to a word and you have the possessive, right? Boy becomes boy's for the singular possessive and boys' for the plural possessive:
This is the boy's bicycle.
These are the boys' bicycles.
We will forget that many people (no, not us!) put those apostrophes in plurals, but the plural of boy is boys, not boy's!
We will also forget that when you have a word that already ends in s, you still add an apostrophe and an s, except that some people don't do that, and some people say it's okay:
This is James's bicycle.
This is James' bicycle.
I do it the first way, which I believe is preferred. However, when you have a word that ends in -es and it is pronounced as -ez, you don't add the extra s:
These are Socrates' words.
And we don't add the extra s with Jesus:
But today we are talking about two other possessive issues. 
Which One Do We Use?
 Let's say we are talking about the Blake County Writers Club. Or is it the Writer's Club? Or is it the Writers' Club? 
Writers Club – We aren't using Writers as a possessive noun at all, but as an adjective describing the club.
Writer's Club – The club begins to each writer individually.
Writers' Club – The club belongs to all the writers.
Most people agree that either writers or writer's is acceptable.
But let's talk about the restroom. On the door of the restroom, we often have Ladies on one door and Men on the other door. They are both plural nouns. No problems. (OK, maybe there is a problem, but I am not talking about new laws.)
When we talk about these rooms, we are likely to say Ladies Room and Mens Room. But we cannot spell them that way, can we? Look at mens. Men is already plural. We cannot add an s to it; mens isn't a word. We need to make it possessive if is going to have an extra s. Men's Room is plural possessive, which if you look above at Writers Club is not one of the preferred spellings. We  never say Man's Room, which is equivalent to Writer's Club. It just sounds weird. So the equivalent of Writers Club or Ladies Room is Men Room. That sounds very strange, yet they are all plurals, no possessive. Just something to think about!
Two Owners
Another possessive issue is with a two separate owners: 
John's and Mary's new car is bright red.
John and Mary's new car is bright red.
Which is it? It is the second one. Now look at these examples:
John's and Mary's new cars are bright red.
John and Mary's new car is bright red.
So if they both share ownership of the same item, we make only the second one possessive. If we are talking about separate items that they own, we make each one possessive.
Here is another little issue that really has nothing to do with possession, but I was reminded of it while writing this post:
All six bridesmaids wore a yellow dress at the wedding. (Can you picture all six of them squeezing into that one yellow dress?)
All six bridesmaids wore yellow dresses at the wedding. (Ah! Much more comfortable!)
---
Grammar Diva News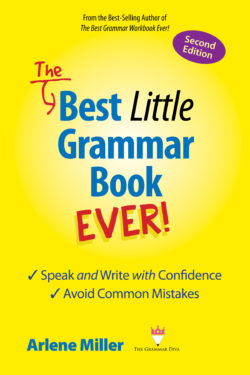 The second edition of The Best Little Grammar Book Ever! is now available in paperback from Amazon and all other online booksellers. You can also order the book from your local bookstore. 
The Kindle version is also now available. The e-book will also be available on all other readers in ????  – a short while!
Lower Prices on Kindle! 
The prices on all my Kindle books have been lowered! Check it out!
Grammar Workshop
To launch my new book, I will be presenting a grammar workshop at Copperfield's Books in Petaluma on Saturday, August 6, at 1 p.m. Be there! You know it will be fun! Books will be available at the store if you would like to buy one.