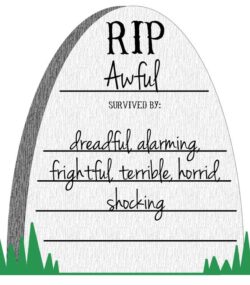 To be honest, the first time I ever heard the term "dead word" was when my daughter was in seventh grade, and her English teacher had dead words hanging from the ceiling of the classroom. A dead word is one that is overused and has lost its punch; therefore, dead words should be avoided as much as possible.
Probably the all-time deadest of words is a lot or, incorrectly, alot. If you must use it, at least use it as two separate words. Other dead words include nice and good, which are dull. Fun is another one and, of course, the trite awesome and cool, which I do tend to use (for shame!).
Most dead words are "describing" words — adjectives and adverbs. Others, like said and have to are verbs.
A couple of dead adverbs are really and very, which are dreadfully (or should I say deadfully) overused, sometimes even used twice in a row! (imagine! very, very good; really, really fun)
A few weeks ago, I received an e-mail from Luke Palder, who runs ProofreadingServices.com. He said his group had devised an infographic with 128 words to use instead of the dead very. He thought I might be interested in posting it for you. So, even though he has a copyeditor/proofreader business, making us friendly competitors of a sort, of course I will share with you his infographic!
However, as you see, it is too small to read, and I am not techie enough to fix it, so here is the link to find this "very" useful infographic with all types of words you can use to avoid very and make your writing more interesting!
Click here to enlarge the infographic!
And now you can bury very . . . RIP very, really, a lot, nice, fun, good, said, have to, awesome, cool, and the rest of you.
And thank you, Luke Palder and the people at Proofreading Services.