Welcome to the second C (last week we talked about Consistency)  in the series of three (what will it be next week?). In this post, we discuss clarity.
The whole purpose of speaking and writing is to communicate. The most important thing about communicating is understanding what is being said or written. Clarity is important; otherwise communication doesn't work well.
A couple of obvious roadblocks to clarity are long, complicated sentences and fifty-cent words when a twenty-five cent, or even a ten-cent, word will do. Let's talk specifically about three problems that can get in the way of clarity.
Unclear antecedents: Mary waved at Jennie as she drove by. Who was driving? Did Mary drive by Jennie and wave? Or did Mary wave as Jennie drove by? We can't tell whom she refers to. She is a pronoun that refers to someone previously mentioned in the sentence. Whomever she refers to is its antecedent. As Jennie drove by, Mary waved. There. Fixed. Words such as it, this, and which often have unclear antecedents, so be careful when you write. Sometimes we might start a sentence with it or this, and whatever it or this refers to is a sentence — or maybe more than a sentence — back, leaving the reader confused. Same with which: I have several ideas for the dance theme and who will provide the refreshments, which I will talk to you about later. Not too clear.
Subject and verb too far apart. The committee, which is made up of people from a variety of occupations, and which meets several times a year to determine what the priorities of the department should be for the next year, and even several years beyond that in many cases — at least recently —  is drawing up its agenda for the next meeting. This particular example is not difficult to wade through — there are much worse — but you get the idea. The subject of the sentence is committee, and the verb is is drawing. There is too much information between them. Often, by the time you get to the action word (verb), you have forgotten what the subject is, and you have to look back to find it. Don't make your reader work that hard. I am not saying that the subject must always be directly followed by the verb, but there is rarely a reason to put that much information between them.
Misplaced and dangling modifiers. Repaired and freshly painted, I picked up my car from the body shop. They called to tell me my car would be ready on Thursday. It is generally best to put words near other words they go with. Who or what was freshly painted and repaired? It appears that it was I, not the car. Did the shop call on Thursday? Was the car ready on Thursday? Both? I picked up my car, repaired and freshly painted, from the body shop. They called on Thursday to tell me my car would be ready that afternoon.  Fixed.
Grammar Diva News
See you at the Sonoma County Fair!
I will be at the Sonoma County Fair, along with other Redwood Writers, selling my books, doing readings, and giving tips – 11  a.m. to 6 p.m. on Saturday August 5; Friday, August 11; and Sunday, August 13. Come on down and say HI!
Does Your Flamingo Flamenco?– Now available on Amazon and Kindle!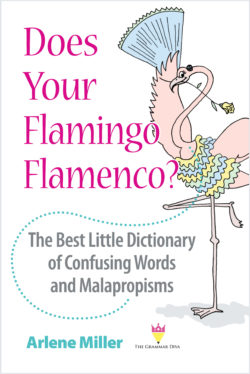 SaveSave
SaveSave
SaveSave