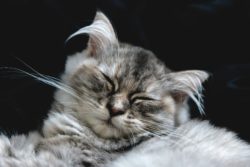 I don't know about you, but since the November election (and before it as well), I have been watching a fair amount of cable TV news. I really haven't watched any network news, so I can't really speak to that — but these are smart people on cable news, both the show hosts and the pundits. But sometimes my ears hurt by their use of the English language. 
Before I continue with my gripes, I do have to say something. Most of us haven't learned any grammar since probably seventh or eighth grade, and for many of us, that was a really long time ago. Most of what I know, I learned from teaching 7th grade English and from copyediting other people's writing. So, in a way, it is not surprising that people would maybe make some mistakes unless they are grammar nuts like I am. On the other hand, though, some of these are pretty well-known "no-nos"!
Me and him???? Really? I hear this one a lot — as a sentence subject. I have no idea why people persist in this usage. First of all, me and him aren't subject pronouns. Second, out of politeness, me comes last. These same people are of course using I as an object pronoun: Him and his lawyer gave the news to Jim and I. Nice.
Myself is still being abused. Myself is used properly pretty much only when I am the subject: I talked to him myself. I myself spoke to her. Not He told it to Jane and myself. Or My fellow journalists and myself wrote about it last week.
The confusion about like versus as and as if is another common "mistake." I put mistake in quotes because the distinction is largely ignored these days. Look at last week's blog post for more information about this one. Basically, like is often used when as if or as should be. Like I said last night should be As I said last night. 
These little slip-ups concern me. I find them of concern. But I don't find them concerning. What's with that? Last time I looked up concerning (likely the last time I wrote about this issue), it was still a form of the verb concern. It was not really an adjective (although it is a participle).  Therefore, I don't like the sentence, This is concerning. Translation: This is of concern. I suppose that first construction is now so common that it will become (or already has become) acceptable. 
But who am myself to say?
If you have heard any "grammar abuses" on the news, please write and tell me about it by e-mail or in the comments section here. Thank you!
Grammar Diva News
Check out my news release about Does Your Flamingo Flamenco? By the way, I will be giving away 5 copies of this book on Goodreads, and I think the deadline to sign up is September 5. 
The issue with Amazon that I was having last week, I have now learned, is a "thing." Amazon's policy on third-party sellers changed in March, and many are upset and have written articles about it.  Where have I been?